Get your tickets now for the $250,000 to WIN Huset's High Bank Nationals! The highest paying 410 Sprint Car race in the World!!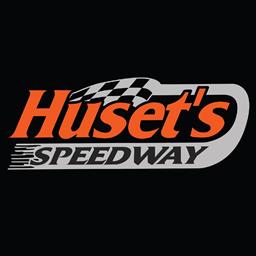 9/3/2022 - Huset's Speedway
Brandon, SD
Bull Haulers Brawl presented by Folkens Brothers Trucking - NOSA 410 Outlaw Sprint Cars
NOSA 410 Sprint Cars plus MSTS 360 Sprint Cars
Adults $20.00 in advance online, $25.00 at Gate
Students $8.00 in advance online, $10.00 at Gate
Kids 12 & under FREE
Red Rock Bar & Grill will be giving away two bikes to Kid's 12 & under.
Casey's 410 Outlaw Sprint Cars

22 entries

Northern Outlaw Sprint Association

360 Sprint Cars

34 entries

MSTS 360 Midwest Sprint Touring Series,Midwest Power Series
Full Event Information on MyRacePass
Casey's 410 Outlaw Sprint Cars
Finish
Start
#
Competitor
Hometown
+/-
1
1
8
Aaron Reutzel Clute, TX
Clute, TX
-
2
5
2KS
Ian Madsen St Marys, NSW
St Marys, NSW
3
3
4
81
Jack Dover Springfield, NE
Springfield, NE
1
4
14
13
Mark Dobmeier Grand Forks, ND
Grand Forks, ND
10
5
3
22
Riley Goodno Knoxville, IA
Knoxville, IA
-2
6
2
27
Carson McCarl Altoona, IA
Altoona, IA
-4
7
6
16
Brooke Tatnell San Souci, NSW
San Souci, NSW
-1
8
11
88
Austin McCarl Altoona, IA
Altoona, IA
3
9
12
8H
Jade Hastings Grand Forks, ND
Grand Forks, ND
3
10
22
7
Justin Henderson Tea, SD
Tea, SD
12
11
10
11M
Brendan Mullen Grand Forks, ND
Grand Forks, ND
-1
12
9
14T
Tim Estenson Fargo, ND
Fargo, ND
-3
13
21
22K
Kaleb Johnson Sioux Falls, SD
Sioux Falls, SD
8
14
17
4
Cody Hansen Nunda, SD
Nunda, SD
3
15
7
09
Matt Juhl Tea, SD
Tea, SD
-8
16
13
51A
Elliot Amdahl Flandreau, SD
Flandreau, SD
-3
17 DNF
18
101
Chuck McGillivray Madison, SD
Madison, SD
1
18 DNF
20
7W
Dustin Selvage Indianola, IA
Indianola, IA
2
19 DNF
8
9N
Wade Nygaard Grand Forks, ND
Grand Forks, ND
-11
20 DNF
15
10J
Justin Jacobsma Hull, IA
Hull, IA
-5
21 DNF
16
14
Jody Rosenboom Rock Rapids, IA
Rock Rapids, IA
-5
22 DNF
19
3P
Sawyer Phillips Pleasantville, IA
Pleasantville, IA
-3
10 Laps
Heat 1Fatheadz Eyewear
Finish
Start
#
Competitor
Hometown
+/-
1
1
14T
Tim Estenson Fargo, ND
Fargo, ND
-
2
4
8
Aaron Reutzel Clute, TX
Clute, TX
2
3
2
09
Matt Juhl Tea, SD
Tea, SD
-1
4
3
27
Carson McCarl Altoona, IA
Altoona, IA
-1
5
6
13
Mark Dobmeier Grand Forks, ND
Grand Forks, ND
1
6
5
51A
Elliot Amdahl Flandreau, SD
Flandreau, SD
-1
7
8
7W
Dustin Selvage Indianola, IA
Indianola, IA
1
8
7
3P
Sawyer Phillips Pleasantville, IA
Pleasantville, IA
-1
All transfer
Finish
Start
#
Competitor
Hometown
+/-
1
2
81
Jack Dover Springfield, NE
Springfield, NE
1
2
4
16
Brooke Tatnell San Souci, NSW
San Souci, NSW
2
3
5
88
Austin McCarl Altoona, IA
Altoona, IA
2
4
3
9N
Wade Nygaard Grand Forks, ND
Grand Forks, ND
-1
5
7
4
Cody Hansen Nunda, SD
Nunda, SD
2
6
6
14
Jody Rosenboom Rock Rapids, IA
Rock Rapids, IA
-
DNS
1
7
Justin Henderson Tea, SD
Tea, SD
-
All transfer
Finish
Start
#
Competitor
Hometown
+/-
1
1
11M
Brendan Mullen Grand Forks, ND
Grand Forks, ND
-
2
3
2KS
Ian Madsen St Marys, NSW
St Marys, NSW
1
3
6
8H
Jade Hastings Grand Forks, ND
Grand Forks, ND
3
4
4
22
Riley Goodno Knoxville, IA
Knoxville, IA
-
5
7
101
Chuck McGillivray Madison, SD
Madison, SD
2
6
5
10J
Justin Jacobsma Hull, IA
Hull, IA
-1
7 DNF
2
22K
Kaleb Johnson Sioux Falls, SD
Sioux Falls, SD
-5
All transfer
2 Laps
QualifyingNordica Warehouses
Finish
Start
#
Competitor
Hometown
Time
1
3
8
Aaron Reutzel Clute, TX
Clute, TX
10.744
2
15
16
Brooke Tatnell San Souci, NSW
San Souci, NSW
10.880
3
2
22
Riley Goodno Knoxville, IA
Knoxville, IA
10.923
4
4
27
Carson McCarl Altoona, IA
Altoona, IA
10.954
5
19
9N
Wade Nygaard Grand Forks, ND
Grand Forks, ND
10.956
6
11
2KS
Ian Madsen St Marys, NSW
St Marys, NSW
10.969
7
21
09
Matt Juhl Tea, SD
Tea, SD
10.976
8
6
81
Jack Dover Springfield, NE
Springfield, NE
11.005
9
14
22K
Kaleb Johnson Sioux Falls, SD
Sioux Falls, SD
11.019
10
9
14T
Tim Estenson Fargo, ND
Fargo, ND
11.059
11
17
7
Justin Henderson Tea, SD
Tea, SD
11.061
12
5
11M
Brendan Mullen Grand Forks, ND
Grand Forks, ND
11.096
13
1
51A
Elliot Amdahl Flandreau, SD
Flandreau, SD
11.098
14
8
88
Austin McCarl Altoona, IA
Altoona, IA
11.143
15
7
10J
Justin Jacobsma Hull, IA
Hull, IA
11.161
16
20
13
Mark Dobmeier Grand Forks, ND
Grand Forks, ND
11.165
17
10
14
Jody Rosenboom Rock Rapids, IA
Rock Rapids, IA
11.179
18
18
8H
Jade Hastings Grand Forks, ND
Grand Forks, ND
11.195
19
22
3P
Sawyer Phillips Pleasantville, IA
Pleasantville, IA
11.203
20
13
4
Cody Hansen Nunda, SD
Nunda, SD
11.208
21
12
101
Chuck McGillivray Madison, SD
Madison, SD
11.215
22
16
7W
Dustin Selvage Indianola, IA
Indianola, IA
11.276
360 Sprint Cars
Finish
Start
#
Competitor
Hometown
+/-
1
1
83
Justin Henderson Tea, SD
Tea, SD
-
2
4
22K
Kaleb Johnson Sioux Falls, SD
Sioux Falls, SD
2
3
7
09
Matt Juhl Tea, SD
Tea, SD
4
4
2
5
Eric Lutz Sioux Falls, SD
Sioux Falls, SD
-2
5
14
22X
Riley Goodno Knoxville, IA
Knoxville, IA
9
6
3
53
Jack Dover Springfield, NE
Springfield, NE
-3
7
8
14T
Brooke Tatnell San Souci, NSW
San Souci, NSW
1
8
10
20
Brant O'Banion Parker, SD
Parker, SD
2
9
6
13MJ
Brandon Halverson Jackson, MN
Jackson, MN
-3
10
5
24T
Christopher Thram Sanborn, MN
Sanborn, MN
-5
11
12
2
Chase Porter St. Joseph, MO
St. Joseph, MO
1
12
18
4
Cody Hansen Nunda, SD
Nunda, SD
6
13
9
24N
Nathan Mills Bondurant, IA
Bondurant, IA
-4
14
16
33
James Broty Lonsdale, MN
Lonsdale, MN
2
15
20
5J
Javen Ostermann Courtland, MN
Courtland, MN
5
16
21
40
Clint Garner Sioux Falls, SD
Sioux Falls, SD
5
17
24
12
Troy Schreurs Baltic, SD
Baltic, SD
7
18
19
22
Ryan Leavitt Knoxville, IA
Knoxville, IA
1
19
23
83H
Sam Henderson Sioux Falls, SD
Sioux Falls, SD
4
20
15
10J
Justin Jacobsma Hull, IA
Hull, IA
-5
21 DNF
17
5F
Brady Forbrook Morgan, MN
Morgan, MN
-4
22 DNF
22
22W
Aaron Werner Colman, SD
Colman, SD
-
23 DNF
13
23W
Scott Winters Butterfield, MN
Butterfield, MN
-10
24 DNF
11
14
Jody Rosenboom Rock Rapids, IA
Rock Rapids, IA
-13
Finish
Start
#
Competitor
Hometown
+/-
1
1
40
Clint Garner Sioux Falls, SD
Sioux Falls, SD
-
2
2
22W
Aaron Werner Colman, SD
Colman, SD
-
3
4
83H
Sam Henderson Sioux Falls, SD
Sioux Falls, SD
1
4
7
12
Troy Schreurs Baltic, SD
Baltic, SD
3
Top 4 transfer
5
6
8
Micah Slendy Sioux Falls, SD
Sioux Falls, SD
1
6
8
18
Tyler Rabenberg Princeton, MN
Princeton, MN
2
7
5
18D
Dalton Domagala Luverne, MN
Luverne, MN
-2
8 DNF
13
10
Lincoln Drewis Tripoli, IA
Tripoli, IA
5
9 DNF
9
5W
Bill Wiese Flandreau, SD
Flandreau, SD
-
10 DNF
3
07
Zackary Nelson Glencoe, MN
Glencoe, MN
-7
11 DNF
11
105
Cody Ihlen Pipestone, MN
Pipestone, MN
-
DNS
10
16
Rob Rawson Big Lake, MN
Big Lake, MN
-
DNS
14
48
Taylor Forbes Harrisburg, SD
Harrisburg, SD
-
DNS
12
33B
Scott Broty Lonsdale, MN
Lonsdale, MN
-
Finish
Start
#
Competitor
Hometown
+/-
1
4
09
Matt Juhl Tea, SD
Tea, SD
3
2
3
13MJ
Brandon Halverson Jackson, MN
Jackson, MN
1
3
5
53
Jack Dover Springfield, NE
Springfield, NE
2
4
6
22X
Riley Goodno Knoxville, IA
Knoxville, IA
2
5
9
20
Brant O'Banion Parker, SD
Parker, SD
4
Top 5 transfer
6
7
40
Clint Garner Sioux Falls, SD
Sioux Falls, SD
1
7
1
18
Tyler Rabenberg Princeton, MN
Princeton, MN
-6
8
8
12
Troy Schreurs Baltic, SD
Baltic, SD
-
DNS
2
10
Lincoln Drewis Tripoli, IA
Tripoli, IA
-
Finish
Start
#
Competitor
Hometown
+/-
1
4
5
Eric Lutz Sioux Falls, SD
Sioux Falls, SD
3
2
1
2
Chase Porter St. Joseph, MO
St. Joseph, MO
-1
3
5
22K
Kaleb Johnson Sioux Falls, SD
Sioux Falls, SD
2
4
6
10J
Justin Jacobsma Hull, IA
Hull, IA
2
5
9
14
Jody Rosenboom Rock Rapids, IA
Rock Rapids, IA
4
Top 5 transfer
6
3
18D
Dalton Domagala Luverne, MN
Luverne, MN
-3
7
8
07
Zackary Nelson Glencoe, MN
Glencoe, MN
1
8
2
5W
Bill Wiese Flandreau, SD
Flandreau, SD
-6
9 DNF
7
105
Cody Ihlen Pipestone, MN
Pipestone, MN
-2
Finish
Start
#
Competitor
Hometown
+/-
1
1
14T
Brooke Tatnell San Souci, NSW
San Souci, NSW
-
2
5
83
Justin Henderson Tea, SD
Tea, SD
3
3
3
33
James Broty Lonsdale, MN
Lonsdale, MN
-
4
4
22
Ryan Leavitt Knoxville, IA
Knoxville, IA
-
5
6
5J
Javen Ostermann Courtland, MN
Courtland, MN
1
Top 5 transfer
6
7
22W
Aaron Werner Colman, SD
Colman, SD
1
7
8
83H
Sam Henderson Sioux Falls, SD
Sioux Falls, SD
1
8
2
16
Rob Rawson Big Lake, MN
Big Lake, MN
-6
Finish
Start
#
Competitor
Hometown
+/-
1
1
24T
Christopher Thram Sanborn, MN
Sanborn, MN
-
2
2
24N
Nathan Mills Bondurant, IA
Bondurant, IA
-
3
4
23W
Scott Winters Butterfield, MN
Butterfield, MN
1
4
5
5F
Brady Forbrook Morgan, MN
Morgan, MN
1
5
7
4
Cody Hansen Nunda, SD
Nunda, SD
2
Top 5 transfer
6
3
8
Micah Slendy Sioux Falls, SD
Sioux Falls, SD
-3
7 DNF
6
33B
Scott Broty Lonsdale, MN
Lonsdale, MN
-1
DNS
8
48
Taylor Forbes Harrisburg, SD
Harrisburg, SD
-