Get your tickets now for the $250,000 to WIN Huset's High Bank Nationals! The highest paying 410 Sprint Car race in the World!!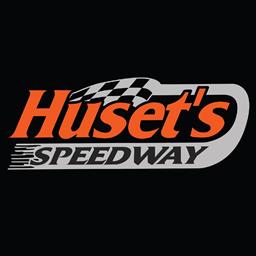 7/9/2022 - Huset's Speedway
Brandon, SD
USAC Nationals
Reserved Adults $40.00
GA Adults $30.00
12 & under $20.00
Pit Pass $40.00
Fan Pit Party from 1:00 - 4:00 pm in the back pit area.
Inflatables and a dunk tank, face painting, Big Wheel races and $2 Busch Lights. Free for all ages!
USAC Midgets

26 entries

USAC Amsoil Non Wing Sprint Cars

24 entries
Full Event Information on MyRacePass
USAC Midgets
Finish
Start
#
Competitor
Hometown
+/-
1
6
67
Michael Kofoid Penngrove, CA
Penngrove, CA
5
2
5
08
Cannon McIntosh Bixby, OK
Bixby, OK
3
3
2
61
Jacob Denney Galloway, OH
Galloway, OH
-1
4
3
89
Mitchel Moles Raisin city, CA
Raisin city, CA
-1
5
11
21H
Brady Bacon Broken Arrow, OK
Broken Arrow, OK
6
6
14
9M
Zach Daum Pocahontas, IL
Pocahontas, IL
8
7
7
01
Bryant Wiedeman Colby, KS
Colby, KS
-
8
15
97
Brenham Crouch Lubbock, TX
Lubbock, TX
7
9
1
26
Chance Crum Snohomish, WA
Snohomish, WA
-8
10
25
7X
Thomas Meseraull San Jose, CA
San Jose, CA
15
11
26
71
Kaylee Bryson Muskogee, OK
Muskogee, OK
15
12
8
2J
Justin Grant Ione, CA
Ione, CA
-4
13
4
57
Maria Cofer Macdoel, CA
Macdoel, CA
-9
14
16
40
Chase McDermand Springfield, IL
Springfield, IL
2
15
12
17W
Shane Golobic Fremont, CA
Fremont, CA
-3
16
18
25K
Taylor Reimer Tulsa, OK
Tulsa, OK
2
17
13
84
Jade Avedisian Clovis, CA
Clovis, CA
-4
18
10
87
Jace Park Overland Park, KS
Overland Park, KS
-8
19
21
25
Logan Seavey Sutter, CA
Sutter, CA
2
20
20
19AZ
Hayden Reinbold Chandler, AZ
Chandler, AZ
-
21
17
71M
Cade Lewis Bakersfield, CA
Bakersfield, CA
-4
22
24
08X
Trey Gropp Lincoln, NE
Lincoln, NE
2
23
23
0T
Alex Schriever Hartford, SD
Hartford, SD
-
24
9
19M
Ethan Mitchell Mooresville, NC
Mooresville, NC
-15
25
19
40B
Blake Brannon San Jose, CA
San Jose, CA
-6
Finish
Start
#
Competitor
Hometown
+/-
1
2
87
Jace Park Overland Park, KS
Overland Park, KS
1
2
4
61
Jacob Denney Galloway, OH
Galloway, OH
2
3
1
25K
Taylor Reimer Tulsa, OK
Tulsa, OK
-2
4
8
67
Michael Kofoid Penngrove, CA
Penngrove, CA
4
5
5
17W
Shane Golobic Fremont, CA
Fremont, CA
-
6
7
19M
Ethan Mitchell Mooresville, NC
Mooresville, NC
1
7
6
97
Brenham Crouch Lubbock, TX
Lubbock, TX
-1
8
9
08X
Trey Gropp Lincoln, NE
Lincoln, NE
1
9
3
25
Logan Seavey Sutter, CA
Sutter, CA
-6
Finish
Start
#
Competitor
Hometown
+/-
1
1
9M
Zach Daum Pocahontas, IL
Pocahontas, IL
-
2
2
84
Jade Avedisian Clovis, CA
Clovis, CA
-
3
5
01
Bryant Wiedeman Colby, KS
Colby, KS
2
4
3
40
Chase McDermand Springfield, IL
Springfield, IL
-1
5
8
89
Mitchel Moles Raisin city, CA
Raisin city, CA
3
6
7
7X
Thomas Meseraull San Jose, CA
San Jose, CA
1
7
4
71
Kaylee Bryson Muskogee, OK
Muskogee, OK
-3
8
6
71M
Cade Lewis Bakersfield, CA
Bakersfield, CA
-2
Finish
Start
#
Competitor
Hometown
+/-
1
2
21H
Brady Bacon Broken Arrow, OK
Broken Arrow, OK
1
2
4
2J
Justin Grant Ione, CA
Ione, CA
2
3
7
08
Cannon McIntosh Bixby, OK
Bixby, OK
4
4
6
26
Chance Crum Snohomish, WA
Snohomish, WA
2
5
8
57
Maria Cofer Macdoel, CA
Macdoel, CA
3
6
3
40B
Blake Brannon San Jose, CA
San Jose, CA
-3
7
9
0T
Alex Schriever Hartford, SD
Hartford, SD
2
8
1
14X
Jody Rosenboom Rock Rapids, IA
Rock Rapids, IA
-7
9
5
19AZ
Hayden Reinbold Chandler, AZ
Chandler, AZ
-4
Finish
Start
#
Competitor
Hometown
Time
1
3
67
Michael Kofoid Penngrove, CA
Penngrove, CA
2
6
19M
Ethan Mitchell Mooresville, NC
Mooresville, NC
3
21
57
Maria Cofer Macdoel, CA
Macdoel, CA
4
4
97
Brenham Crouch Lubbock, TX
Lubbock, TX
5
13
89
Mitchel Moles Raisin city, CA
Raisin city, CA
6
23
08
Cannon McIntosh Bixby, OK
Bixby, OK
7
1
17W
Shane Golobic Fremont, CA
Fremont, CA
8
7
61
Jacob Denney Galloway, OH
Galloway, OH
9
12
7X
Thomas Meseraull San Jose, CA
San Jose, CA
10
11
71M
Cade Lewis Bakersfield, CA
Bakersfield, CA
11
19
26
Chance Crum Snohomish, WA
Snohomish, WA
12
9
87
Jace Park Overland Park, KS
Overland Park, KS
13
5
25K
Taylor Reimer Tulsa, OK
Tulsa, OK
14
10
01
Bryant Wiedeman Colby, KS
Colby, KS
15
15
71
Kaylee Bryson Muskogee, OK
Muskogee, OK
16
25
19AZ
Hayden Reinbold Chandler, AZ
Chandler, AZ
17
22
2J
Justin Grant Ione, CA
Ione, CA
18
14
40
Chase McDermand Springfield, IL
Springfield, IL
19
16
84
Jade Avedisian Clovis, CA
Clovis, CA
20
8
25
Logan Seavey Sutter, CA
Sutter, CA
21
20
40B
Blake Brannon San Jose, CA
San Jose, CA
22
17
9M
Zach Daum Pocahontas, IL
Pocahontas, IL
23
18
21H
Brady Bacon Broken Arrow, OK
Broken Arrow, OK
24
2
08X
Trey Gropp Lincoln, NE
Lincoln, NE
25
26
14X
Jody Rosenboom Rock Rapids, IA
Rock Rapids, IA
26
24
0T
Alex Schriever Hartford, SD
Hartford, SD
USAC Amsoil Non Wing Sprint Cars
Finish
Start
#
Competitor
Hometown
+/-
1
5
17W
Ryan Bernal Hollister, CA
Hollister, CA
4
2
12
4
Justin Grant Ione, CA
Ione, CA
10
3
7
69
Brady Bacon Broken Arrow, OK
Broken Arrow, OK
4
4
9
12
Robert Ballou Rocklin, CA
Rocklin, CA
5
5
6
5
Logan Seavey Sutter, CA
Sutter, CA
1
6
8
21AZ
Jake Swanson Anaheim, CA
Anaheim, CA
2
7
19
2
Thomas Meseraull San Jose, CA
San Jose, CA
12
8
1
74
Xavier Doney Odessa, MO
Odessa, MO
-7
9
10
47BC
Emerson Axsom Franklin, IN
Franklin, IN
1
10
3
51T
Eddie Tafoya Jr Chino Hills, CA
Chino Hills, CA
-7
11
11
77M
C.J. Leary Greenfield, IN
Greenfield, IN
-
12
17
4X
Braydon Cromwell Lone Jack, MO
Lone Jack, MO
5
13
13
33M
Matt Westfall Pleasant Hill, OH
Pleasant Hill, OH
-
14
14
28
Brandon Mattox Cory, IN
Cory, IN
-
15
18
5X
Alex Banales West Lafayette, IN
West Lafayette, IN
3
16
21
11W
Wyatt Burks Topeka, KS
Topeka, KS
5
17
16
38
Eric Schulz Sioux Falls, SD
Sioux Falls, SD
-1
18
20
0
Alex Schriever Hartford, SD
Hartford, SD
2
19
24
4F
Chad Frewaldt Kansas City, KS
Kansas City, KS
5
20
23
7
Clinton Bruns Little Rock, IA
Little Rock, IA
3
21
22
97
Cam Schafer Little Canada, MN
Little Canada, MN
1
22
2
19AZ
Mitchel Moles Raisin city, CA
Raisin city, CA
-20
23
4
14
Jadon Rogers Worthington, IN
Worthington, IN
-19
24
15
5D
Zach Daum Pocahontas, IL
Pocahontas, IL
-9
Finish
Start
#
Competitor
Hometown
+/-
1
4
14
Jadon Rogers Worthington, IN
Worthington, IN
3
2
6
12
Robert Ballou Rocklin, CA
Rocklin, CA
4
3
2
5D
Zach Daum Pocahontas, IL
Pocahontas, IL
-1
4
3
28
Brandon Mattox Cory, IN
Cory, IN
-1
5
8
5
Logan Seavey Sutter, CA
Sutter, CA
3
6
1
11W
Wyatt Burks Topeka, KS
Topeka, KS
-5
7
7
33M
Matt Westfall Pleasant Hill, OH
Pleasant Hill, OH
-
8
5
4X
Braydon Cromwell Lone Jack, MO
Lone Jack, MO
-3
Finish
Start
#
Competitor
Hometown
+/-
1
4
17W
Ryan Bernal Hollister, CA
Hollister, CA
3
2
5
69
Brady Bacon Broken Arrow, OK
Broken Arrow, OK
3
3
6
21AZ
Jake Swanson Anaheim, CA
Anaheim, CA
3
4
8
47BC
Emerson Axsom Franklin, IN
Franklin, IN
4
5
2
5X
Alex Banales West Lafayette, IN
West Lafayette, IN
-3
6
7
19AZ
Mitchel Moles Raisin city, CA
Raisin city, CA
1
7
3
2
Thomas Meseraull San Jose, CA
San Jose, CA
-4
8
1
4F
Chad Frewaldt Kansas City, KS
Kansas City, KS
-7
Finish
Start
#
Competitor
Hometown
+/-
1
7
77M
C.J. Leary Greenfield, IN
Greenfield, IN
6
2
8
4
Justin Grant Ione, CA
Ione, CA
6
3
6
51T
Eddie Tafoya Jr Chino Hills, CA
Chino Hills, CA
3
4
5
74
Xavier Doney Odessa, MO
Odessa, MO
1
5
1
0
Alex Schriever Hartford, SD
Hartford, SD
-4
6
4
38
Eric Schulz Sioux Falls, SD
Sioux Falls, SD
-2
7
2
7
Clinton Bruns Little Rock, IA
Little Rock, IA
-5
8
3
97
Cam Schafer Little Canada, MN
Little Canada, MN
-5
Finish
Start
#
Competitor
Hometown
Time
1
9
47BC
Emerson Axsom Franklin, IN
Franklin, IN
2
16
19AZ
Mitchel Moles Raisin city, CA
Raisin city, CA
3
18
4
Justin Grant Ione, CA
Ione, CA
4
17
77M
C.J. Leary Greenfield, IN
Greenfield, IN
5
11
21AZ
Jake Swanson Anaheim, CA
Anaheim, CA
6
15
69
Brady Bacon Broken Arrow, OK
Broken Arrow, OK
7
7
5
Logan Seavey Sutter, CA
Sutter, CA
8
6
33M
Matt Westfall Pleasant Hill, OH
Pleasant Hill, OH
9
1
12
Robert Ballou Rocklin, CA
Rocklin, CA
10
8
4X
Braydon Cromwell Lone Jack, MO
Lone Jack, MO
11
12
17W
Ryan Bernal Hollister, CA
Hollister, CA
12
10
2
Thomas Meseraull San Jose, CA
San Jose, CA
13
2
14
Jadon Rogers Worthington, IN
Worthington, IN
14
23
51T
Eddie Tafoya Jr Chino Hills, CA
Chino Hills, CA
15
13
5X
Alex Banales West Lafayette, IN
West Lafayette, IN
16
5
28
Brandon Mattox Cory, IN
Cory, IN
17
3
5D
Zach Daum Pocahontas, IL
Pocahontas, IL
18
4
11W
Wyatt Burks Topeka, KS
Topeka, KS
19
24
74
Xavier Doney Odessa, MO
Odessa, MO
20
19
38
Eric Schulz Sioux Falls, SD
Sioux Falls, SD
21
21
97
Cam Schafer Little Canada, MN
Little Canada, MN
22
14
4F
Chad Frewaldt Kansas City, KS
Kansas City, KS
23
20
7
Clinton Bruns Little Rock, IA
Little Rock, IA
24
22
0
Alex Schriever Hartford, SD
Hartford, SD