Get your tickets now for the $250,000 to WIN Huset's High Bank Nationals! The highest paying 410 Sprint Car race in the World!!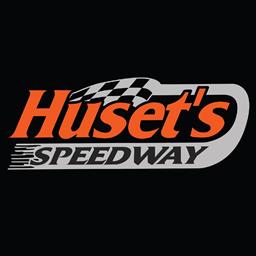 6/19/2022 - Huset's Speedway
Brandon, SD
Border Battle presented by Dakota Supply Group- NOSA 410 Sprint Cars
Casey's 410 Sprint Cars, Wyffels Racesaver Sprint Cars & Nordstrom's Automotive Late Model Street Stocks
Buffalo Wild Wings Triple Crown
$10,000 Bonus if the same driver can win both events at Jackson and Huset's this weekend.
Adults $20 at Gate, $17 in advance online
Students 13- 18 $10 at Gate, $7 in advance online
Kid's 12 & younger FREE
Turn 1 Suite Lower Level Adult $40.00
Pit Passes
Adults $35.00
12 & younger $20.00
Casey's 410 Outlaw Sprint Cars

30 entries

Northern Outlaw Sprint Association

Wyffel Hybrids Racesaver Sprint Car Series

21 entries

Nordstrom's Late Model Street Stocks

15 entries
Full Event Information on MyRacePass
Casey's 410 Outlaw Sprint Cars
Finish
Start
#
Competitor
Hometown
+/-
1
9
5T
Ryan Timms Oklahoma City, OK
Oklahoma City, OK
8
2
1
3
Ayrton Gennetten Versailles, MO
Versailles, MO
-1
3
6
88
Austin McCarl Altoona, IA
Altoona, IA
3
4
5
7
Justin Henderson Tea, SD
Tea, SD
1
5
3
22K
Kaleb Johnson Sioux Falls, SD
Sioux Falls, SD
-2
6
7
16
Brooke Tatnell San Souci, NSW
San Souci, NSW
1
7
8
27
Carson McCarl Altoona, IA
Altoona, IA
1
8
11
11M
Brendan Mullen Grand Forks, ND
Grand Forks, ND
3
9
13
13
Mark Dobmeier Grand Forks, ND
Grand Forks, ND
4
10
16
14
Jody Rosenboom Rock Rapids, IA
Rock Rapids, IA
6
11
27
81
Jack Dover Springfield, NE
Springfield, NE
16
12
2
1AU
Marcus Dumesny Sydney, NSW
Sydney, NSW
-10
13
15
ACE
Dusty Zomer Brandon, SD
Brandon, SD
2
14
4
09
Matt Juhl Tea, SD
Tea, SD
-10
15
18
22
Riley Goodno Knoxville, IA
Knoxville, IA
3
16
10
9N
Wade Nygaard Grand Forks, ND
Grand Forks, ND
-6
17
14
51A
Elliot Amdahl Flandreau, SD
Flandreau, SD
-3
18
22
101
Chuck McGillivray Madison, SD
Madison, SD
4
19
17
14T
Tim Estenson Fargo, ND
Fargo, ND
-2
20
21
4
Cody Hansen Nunda, SD
Nunda, SD
1
21
24
86
Donovan Peterson Brookings, SD
Brookings, SD
3
22
26
47
Brant O'Banion Parker, SD
Parker, SD
4
23
20
17
Zach Omdahl East Grand Forks, MN
East Grand Forks, MN
-3
24
23
10J
Justin Jacobsma Hull, IA
Hull, IA
-1
25 DNF
12
1X
Jake Bubak Arvada, CO
Arvada, CO
-13
26 DNF
25
26
Blake Egeland Climax, MN
Climax, MN
-1
27 DNF
19
21
Brian Brown Higginsville, MO
Higginsville, MO
-8
DNS
28
8H
Jade Hastings Grand Forks, ND
Grand Forks, ND
-
DNS
29
22X
Nick Otto Grand Forks, ND
Grand Forks, ND
-
DNS
30
0
Alex Schriever Hartford, SD
Hartford, SD
-
10 Laps
Heat 1Fatheadz Eyewear
Finish
Start
#
Competitor
Hometown
+/-
1
1
5T
Ryan Timms Oklahoma City, OK
Oklahoma City, OK
-
2
3
88
Austin McCarl Altoona, IA
Altoona, IA
1
3
6
14
Jody Rosenboom Rock Rapids, IA
Rock Rapids, IA
3
4
2
9N
Wade Nygaard Grand Forks, ND
Grand Forks, ND
-2
5
5
14T
Tim Estenson Fargo, ND
Fargo, ND
-
6
7
10J
Justin Jacobsma Hull, IA
Hull, IA
1
7 DNF
4
81
Jack Dover Springfield, NE
Springfield, NE
-3
8 DNF
8
47
Brant O'Banion Parker, SD
Parker, SD
-
All transfer
Finish
Start
#
Competitor
Hometown
+/-
1
1
11M
Brendan Mullen Grand Forks, ND
Grand Forks, ND
-
2
2
22K
Kaleb Johnson Sioux Falls, SD
Sioux Falls, SD
-
3
3
3
Ayrton Gennetten Versailles, MO
Versailles, MO
-
4
4
09
Matt Juhl Tea, SD
Tea, SD
-
5
5
22
Riley Goodno Knoxville, IA
Knoxville, IA
-
6
6
4
Cody Hansen Nunda, SD
Nunda, SD
-
7
7
26
Blake Egeland Climax, MN
Climax, MN
-
DNS
8
0
Alex Schriever Hartford, SD
Hartford, SD
-
All transfer
Finish
Start
#
Competitor
Hometown
+/-
1
1
13
Mark Dobmeier Grand Forks, ND
Grand Forks, ND
-
2
4
16
Brooke Tatnell San Souci, NSW
San Souci, NSW
2
3
2
1X
Jake Bubak Arvada, CO
Arvada, CO
-1
4
3
7
Justin Henderson Tea, SD
Tea, SD
-1
5
5
21
Brian Brown Higginsville, MO
Higginsville, MO
-
6
6
101
Chuck McGillivray Madison, SD
Madison, SD
-
7 DNF
7
22X
Nick Otto Grand Forks, ND
Grand Forks, ND
-
All transfer
Finish
Start
#
Competitor
Hometown
+/-
1
2
1AU
Marcus Dumesny Sydney, NSW
Sydney, NSW
1
2
5
51A
Elliot Amdahl Flandreau, SD
Flandreau, SD
3
3
3
27
Carson McCarl Altoona, IA
Altoona, IA
-
4
1
ACE
Dusty Zomer Brandon, SD
Brandon, SD
-3
5
6
17
Zach Omdahl East Grand Forks, MN
East Grand Forks, MN
1
6
7
86
Donovan Peterson Brookings, SD
Brookings, SD
1
7
4
8H
Jade Hastings Grand Forks, ND
Grand Forks, ND
-3
All transfer
2 Laps
QualifyingNordica Warehouses
Finish
Start
#
Competitor
Hometown
Time
1
5
81
Jack Dover Springfield, NE
Springfield, NE
11.164
2
22
09
Matt Juhl Tea, SD
Tea, SD
11.166
3
9
16
Brooke Tatnell San Souci, NSW
San Souci, NSW
11.173
4
4
8H
Jade Hastings Grand Forks, ND
Grand Forks, ND
11.212
5
17
88
Austin McCarl Altoona, IA
Altoona, IA
11.222
6
21
3
Ayrton Gennetten Versailles, MO
Versailles, MO
11.253
7
6
7
Justin Henderson Tea, SD
Tea, SD
11.260
8
10
27
Carson McCarl Altoona, IA
Altoona, IA
11.262
9
26
9N
Wade Nygaard Grand Forks, ND
Grand Forks, ND
11.263
10
2
22K
Kaleb Johnson Sioux Falls, SD
Sioux Falls, SD
11.279
11
11
1X
Jake Bubak Arvada, CO
Arvada, CO
11.284
12
30
1AU
Marcus Dumesny Sydney, NSW
Sydney, NSW
11.287
13
15
5T
Ryan Timms Oklahoma City, OK
Oklahoma City, OK
11.288
14
1
11M
Brendan Mullen Grand Forks, ND
Grand Forks, ND
11.313
15
19
13
Mark Dobmeier Grand Forks, ND
Grand Forks, ND
11.325
16
8
ACE
Dusty Zomer Brandon, SD
Brandon, SD
11.341
17
7
14T
Tim Estenson Fargo, ND
Fargo, ND
11.358
18
24
22
Riley Goodno Knoxville, IA
Knoxville, IA
11.361
19
23
21
Brian Brown Higginsville, MO
Higginsville, MO
11.364
20
20
51A
Elliot Amdahl Flandreau, SD
Flandreau, SD
11.409
21
27
14
Jody Rosenboom Rock Rapids, IA
Rock Rapids, IA
11.506
22
13
4
Cody Hansen Nunda, SD
Nunda, SD
11.553
23
12
101
Chuck McGillivray Madison, SD
Madison, SD
11.611
24
3
17
Zach Omdahl East Grand Forks, MN
East Grand Forks, MN
11.696
25
25
10J
Justin Jacobsma Hull, IA
Hull, IA
11.709
26
18
26
Blake Egeland Climax, MN
Climax, MN
11.956
27
29
22X
Nick Otto Grand Forks, ND
Grand Forks, ND
11.982
28
28
86
Donovan Peterson Brookings, SD
Brookings, SD
11.990
29 DNF
16
47
Brant O'Banion Parker, SD
Parker, SD
11.990
DNS
14
0
Alex Schriever Hartford, SD
Hartford, SD
11.990
Wyffel Hybrids Racesaver Sprint Car Series
Finish
Start
#
Competitor
Hometown
+/-
1
7
23
Brandon Bosma Rock Rapids, IA
Rock Rapids, IA
6
2
9
8
Jacob Hughes Hartford, SD
Hartford, SD
7
3
10
10X
Trevor Serbus Olivia, MN
Olivia, MN
7
4
8
2D
Dusty Ballenger Harrisburg, SD
Harrisburg, SD
4
5
12
17
Lee Goos Jr Hartford, SD
Hartford, SD
7
6
6
15V
Cole Vanderheiden Papillion, NE
Papillion, NE
-
7
1
F5
Tim Rustad Pipestone, MN
Pipestone, MN
-6
8
4
77
Taylor Ryan Flandreau, SD
Flandreau, SD
-4
9
3
1K
Micah Slendy Sioux Falls, SD
Sioux Falls, SD
-6
10
13
35
Sam Henderson Sioux Falls, SD
Sioux Falls, SD
3
11
20
28G
Gracyn Masur Brandon, SD
Brandon, SD
9
12 DNF
11
45
Monty Ferriera Lincoln, NE
Lincoln, NE
-1
13 DNF
15
98
Nate Barger Madison, SD
Madison, SD
2
14 DNF
14
28
Nicholas Winter Pipestone, MN
Pipestone, MN
-
15 DNF
5
14
Nick Barger Madison, SD
Madison, SD
-10
16 DNF
2
6B
Bayley Ballenger Harrisburg, SD
Harrisburg, SD
-14
17 DNF
17
91
Andrew Sullivan Arnold's park, IA
Arnold's park, IA
-
18 DNF
18
69
Mike Moore Des Moines, IA
Des Moines, IA
-
DNS
16
96
Blaine Stegenga Valley Springs, SD
Valley Springs, SD
-
DNS
21
10
Lincoln Drewis Tripoli, IA
Tripoli, IA
-
DNS
19
31
Koby Werkmeister Armour, SD
Armour, SD
-
Finish
Start
#
Competitor
Hometown
+/-
1
3
14
Nick Barger Madison, SD
Madison, SD
2
2
7
17
Lee Goos Jr Hartford, SD
Hartford, SD
5
3
2
6B
Bayley Ballenger Harrisburg, SD
Harrisburg, SD
-1
4
5
2D
Dusty Ballenger Harrisburg, SD
Harrisburg, SD
1
5
4
35
Sam Henderson Sioux Falls, SD
Sioux Falls, SD
-1
6
6
96
Blaine Stegenga Valley Springs, SD
Valley Springs, SD
-
DNS
1
10
Lincoln Drewis Tripoli, IA
Tripoli, IA
-
All transfer
Finish
Start
#
Competitor
Hometown
+/-
1
4
23
Brandon Bosma Rock Rapids, IA
Rock Rapids, IA
3
2
2
1K
Micah Slendy Sioux Falls, SD
Sioux Falls, SD
-
3
6
10X
Trevor Serbus Olivia, MN
Olivia, MN
3
4
5
8
Jacob Hughes Hartford, SD
Hartford, SD
1
5
1
28
Nicholas Winter Pipestone, MN
Pipestone, MN
-4
6
7
91
Andrew Sullivan Arnold's park, IA
Arnold's park, IA
1
7 DNF
3
31
Koby Werkmeister Armour, SD
Armour, SD
-4
All transfer
Finish
Start
#
Competitor
Hometown
+/-
1
1
F5
Tim Rustad Pipestone, MN
Pipestone, MN
-
2
3
15V
Cole Vanderheiden Papillion, NE
Papillion, NE
1
3
2
77
Taylor Ryan Flandreau, SD
Flandreau, SD
-1
4
6
45
Monty Ferriera Lincoln, NE
Lincoln, NE
2
5
4
98
Nate Barger Madison, SD
Madison, SD
-1
6 DNF
5
69
Mike Moore Des Moines, IA
Des Moines, IA
-1
7 DNF
7
28G
Gracyn Masur Brandon, SD
Brandon, SD
-
All transfer
Nordstrom's Late Model Street Stocks
Finish
Start
#
Competitor
Hometown
+/-
1
9
71
Zach Olivier Sioux Falls, SD
Sioux Falls, SD
8
2
10
34K
Colby Klaassen Little Rock, IA
Little Rock, IA
8
3
12
3
Matt Steuerwald Madison, SD
Madison, SD
9
4
1
15
Brandon Ferguson Lennox, SD
Lennox, SD
-3
5
2
14J
Jayke Glanzer Bridgewater, SD
Bridgewater, SD
-3
6
6
29Z
J.J. Zebell Parker, SD
Parker, SD
-
7
11
40
Tim Dann Hartford, SD
Hartford, SD
4
8
8
7
Matthew Donker Stickney, SD
Stickney, SD
-
9
13
64
Cory Yeigh Sioux Falls, SD
Sioux Falls, SD
4
10
4
65J
Jeff Wittrock Sioux Falls, SD
Sioux Falls, SD
-6
11
14
18
Ivan Olivier Garretson, SD
Garretson, SD
3
12 DNF
5
12
Mike Chaney
-7
13 DNF
15
71X
Shaun Taylor Sioux Falls, SD
Sioux Falls, SD
2
14 DNF
7
1X
Aaron Foote Hartford, SD
Hartford, SD
-7
15 DNF
3
21
Ron Howe Wentworth, SD
Wentworth, SD
-12
Finish
Start
#
Competitor
Hometown
+/-
1
4
29Z
J.J. Zebell Parker, SD
Parker, SD
3
2
8
34K
Colby Klaassen Little Rock, IA
Little Rock, IA
6
3
2
14J
Jayke Glanzer Bridgewater, SD
Bridgewater, SD
-1
4
3
65J
Jeff Wittrock Sioux Falls, SD
Sioux Falls, SD
-1
5
5
1X
Aaron Foote Hartford, SD
Hartford, SD
-
6
7
40
Tim Dann Hartford, SD
Hartford, SD
1
7 DNF
6
64
Cory Yeigh Sioux Falls, SD
Sioux Falls, SD
-1
8 DNF
1
71X
Shaun Taylor Sioux Falls, SD
Sioux Falls, SD
-7
All transfer
8 Laps
Heat 2Midwest Oil / VP Fuels
Finish
Start
#
Competitor
Hometown
+/-
1
3
12
Mike Chaney
2
2
1
15
Brandon Ferguson Lennox, SD
Lennox, SD
-1
3
2
21
Ron Howe Wentworth, SD
Wentworth, SD
-1
4
6
71
Zach Olivier Sioux Falls, SD
Sioux Falls, SD
2
5
5
7
Matthew Donker Stickney, SD
Stickney, SD
-
6
7
3
Matt Steuerwald Madison, SD
Madison, SD
1
7 DNF
4
18
Ivan Olivier Garretson, SD
Garretson, SD
-3
All transfer