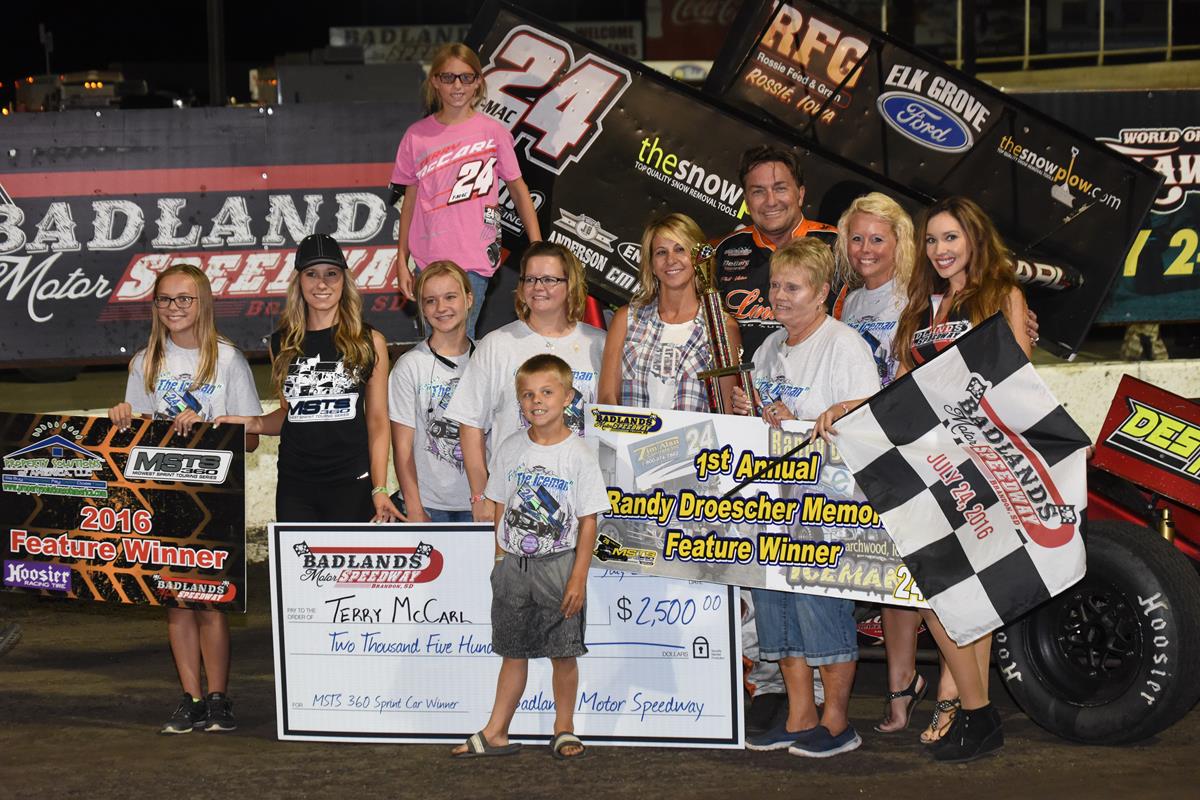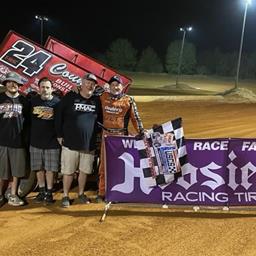 ---
Tuesdays with TMAC – Bittersweet Win in Randy Droescher Memorial!
Tuesdays with TMAC – Bittersweet Win in Randy Droescher Memorial!
(Bill W) July 26, 2016 – Terry McCarl's win of the Randy Droescher Memorial Sunday at Badlands Motor Speedway near Brandon, South Dakota came at a bit of a cost to the family. Son Carson looked to be on his way to his second win of the season in the Jeremy Scadden #6 when he got into the wall. TMAC secured the win for the family, however. This week will be a busy one. On Friday, the $20,000 to win NSL Barb Wieskus Classic will commence at Jackson Motorplex in Minnesota. Saturday, TMAC will be in action at Badlands before returning to NSL racing at the Hancock County Speedway near Britt, Iowa Sunday.
After running from sixth to third in his heat, TMAC lined up third in Sunday's Randy Droescher Memorial. Carson would start second. "It was a bittersweet win in that Carson was running so well," he says. "He was getting through lapped traffic really well. With about five and a half laps to go, he just got a little loose and banged the fence with the back of the car. Over she went. It was disappointing for him. He's been kicking butt and has been really fast."
The #24 was prevalent. "At least we kept it in the family," says TMAC. "It was 24 laps, honoring #24 Randy Droescher. It was on July 24. We were driving #24. It was pretty cool."
Last Thursday, TMAC was in action at the Bobby Parker Memorial at I-80 Speedway near Greenwood, Nebraska. "I-80 was really fun on Thursday," he says. "We wanted to shake down the 360 a few times before the 360 Nationals next week. We started in the front of our heat and battled with (Jack) Dover there, but he got us in the end. We hung right there with him, so we felt good about our car."
Just missing the redraw, he would start ninth in the main event. "We drove her to the front," says TMAC. "We had a good run. Yellows kind of fell against us. We had a great restart with about seven to go and drove by Seth Brahmer and had a good run on Brian (Brown). I think we would have had him passed in four, but it was all called back."
In the end, TMAC would checker third behind Dover and Brown. "On the restart, Brahmer came down and blocked us from passing him," he says. "Once we cleared him, Dover and Brown were stretched out there. I think we had the fastest car at the end of the race, which was good. We moved forward, the car felt good and so did the motor. That's what we were aiming for."
Saturday saw an uncharacteristic struggle at Badlands. "We've been qualifying pretty badly," says TMAC. "That just puts you behind the 8-ball. I don't know what's been going on. Qualifying 16th on a local show can't happen, especially with these big races coming up."
After getting through the heat, he would start eleventh in the feature. "The track was way too heavy," says TMAC. "The rain Saturday morning sure didn't help anything. It's been heavier after the feature than it should be at the beginning of the night. It's just not conducive to passing or my style. We just kind of rolled around there in tenth."
TMAC is looking forward to a busy weekend with the 410. "Barb Wieskus was a friend of mine, and scored often at the Front Row Challenge," he says. "We're friends with her family and we definitely will be there to support that event in her name. Austin and I definitely will be there, and Carson depending on if they get their car back together will be running in the 360. We're looking forward to getting back to Badlands Saturday, and Britt with the NSL Sunday. Jeff and Stacy from TheSnowplow.com and Randy Anderson live close there. It will be good to have them with us"
McCarl Family Websites!
Driverwebsites.com develops the websites for the McCarl boys. Check out www.TerryMcCarl.com, as well as www.AustinMcCarl.com and www.CarsonMcCarl.com!
This Month in TMAC History!
On July 10, 1999, Terry McCarl and Skip Jackson put on a clinic on Twin Features Night at Knoxville. After posting quick time in the Forbrook #5, TMAC started from an invert of ten and passed Skip for the win on the very last lap. Dennis Moore Jr. was third, ahead of Travis Cram and Leonard Lee. In the second feature, the drivers went at it starting 15th (Skip) and 16th (TMAC). Both surged to the front, with Skip winning and TMAC taking second. Rocky Hodges was third ahead of Larry Pinegar II and Jaymie Moyle.
"Tuesdays with TMAC"!
"Tuesdays with TMAC" is an up close and personal look at colorful sprint car veteran Terry McCarl. To receive "Tuesdays with TMAC", send an e-mail to sprntcar@hotmail.com with "TMAC" in the subject line.
TMAC Motorsports would like to thank sponsors SnowPlow Snow Pushers – www.TheSnowPlow.com, Country Builders Construction, Rossie Feed and Grain, Bosma Poultry, Destiny Motorsports, Searsboro Telephone Company, Elk Grove Ford, A.R.T. Speed Equipment, Berryhill Racing, Phil and Vivian, Justice Brothers/Gillund Enterprises, Vortex Racing, Hoosier Tire, Chris Spaulding – Attorney at Law, SuperFlow, Schoenfeld Headers, Rens Trucking, NutriShop – Maple Grove, MN, HRP, All Pro Cylinder Heads, Maxim Chassis, Bob and Beulah Elder, Engler Injection, Snap On Tools, Sposato Paint, Winters, Kilani Fender, Inc., DriverWebsites.com, CM Rock, Brown and Miller, Pro Shocks, Ben Cook, Bell Helmets, Burnett's Rock and Landscaping, Octane Ink, Morgan Strawberry Farms, Dynasty Stucco, Aurora Rod Ends, Crow Safety, KSE Steering, Snyder Lawn & Landscaping, Strange Performance, Saldana Racing Products, Scribner Plastics, Waterman Fuel Pumps, Butlerbuilt and Mote Fasteners.
Photo: TMAC celebrates his win at the Randy Droescher Memorial (Jeff Bylsma Photo)
Bill Wright
Bill W Media
Monroe, IA USA
sprntcar@hotmail.com
Twitter: @BillWMedia
Website: www.OpenWheel101.com
Article Media
Back to News