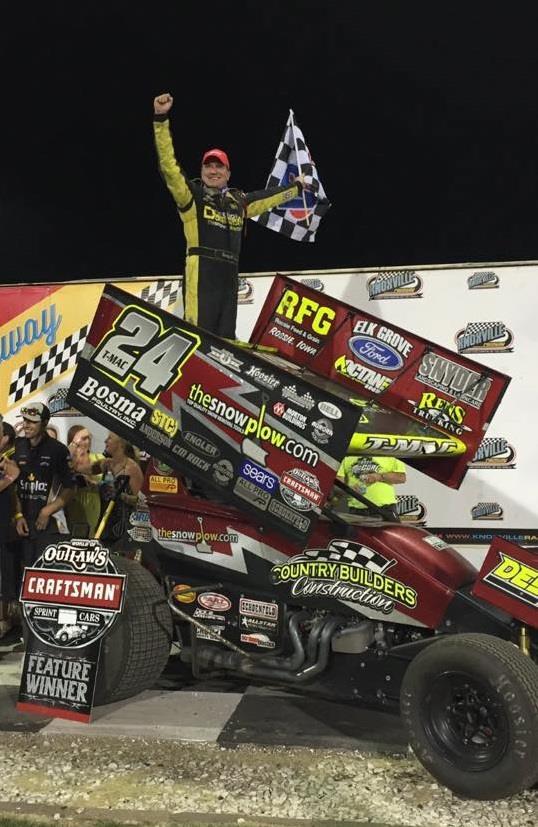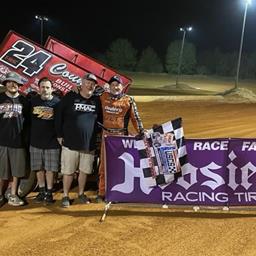 ---
Tuesdays with TMAC – Topping Schatz Doesn't Happen Every Day!
Tuesdays with TMAC – Topping Schatz Doesn't Happen Every Day!
(Bill W) June 14, 2016 – Terry McCarl and the TMAC Motorsports #24 team accomplished something that has been hard to do as of late…beating Donny Schatz at Knoxville. The Altoona, Iowa driver did just that Friday night with the World of Outlaws. He's hoping that is a bit of foreshadowing for August's Knoxville Nationals. TMAC also finished on the podium Saturday night at Badlands Motor Speedway. This week will find the team at Jackson Motorplex in Minnesota Friday with the NSL, Badlands on Saturday, and back with the NSL in Iowa at Mason City Motor Speedway Sunday.
Friday didn't start the greatest when TMAC timed in 12th quick in his group. "We've been off on the car for qualifying for a while now," he says. "It's funny. I feel a little bit like (Donny) Schatz in that respect, because the car has raced really well come feature time, especially on the bigger tracks. I'm lucky to have (crew chief) Doug (Rankin). We have really clicked the last two years, and the longer we're together, the better we are. We're lucky to have Brad Goebel helping Austin too, and Carson's there too. We can bounce things off one another and get feedback between the two teams. I'm really happy with our team."
He would make things up quickly in his heat, storming from sixth to second, and qualifying for the Dash. "We're really getting a handle on our setup for the Maxim," says TMAC. "There's still room for improvement. I don't think we've even reached our potential yet. Once we get qualified, we'll be a force wherever we go."
Justin Henderson would draw an inversion of eight for the Dash, putting TMAC on the pole. "(Dusty) Zomer and Justin (Henderson) keep calling me (Danny) Lasoski (referring to Lasoski's NSL draw run in 2015), and I know how they felt all last year," he says. "The trick for me, is that I haven't drawn any of them. At Knoxville, Justin drew, and at Badlands it's always a little kid."
He would win the Dash from the pole. "No one gets lucky and wins an Outlaw show," says TMAC. "Once in a great while, you get a rubber-down track, and you're on the pole. We still had to go out and win the Dash. To win that, felt good. We really felt like we could run anywhere on the track."
TMAC was stellar from the beginning of the 25-lapper. "I concentrated on keeping the tires under me and running a solid race," he says. "This isn't NASCAR, it's a sprint race. But Donny is so amazing at biding his time and keeping his tires underneath him. Later in the race, when people have maybe used theirs up, he makes you look silly. So that was my focus."
He would survive a restart after a red flag period and held Schatz off for the win. "We were able to hold him off," says TMAC. "Who would have bet that we would get the jump on him at the start, and again on the restart? I wouldn't have bet on me! His record at Knoxville is nothing short of amazing. I couldn't be more proud of my team, my car and Tommy Rider who builds the engine. It was kind of a dream night."
TMAC's respect for Schatz is huge. "I've always had a lot of respect for Donny and his family, and I think he does me," he says. "Like I said Saturday, I feel he's the best driver on the best team in the world. He is so smart. To beat him for just one night at Knoxville is pretty amazing. That gives us some more confidence come Nationals time."
Several partners were in attendance as well. "It was special, because we had Jeff and Stacy from Snowplow.com there with us Friday," says TMAC. "Rick Rogers from Destiny Motorsports' parents were there. They've been there twice, and we've won twice. They were there for the Nationals prelim last year. I told them I'm going to force them to be there every night of the Nationals. Loren and Evan Bosma were there and made it down for the picture too. It was memorable."
On Saturday, TMAC would time in eighth quick at Badlands and run second in his heat. "We made the redraw again," he says. "As our luck's been going, the kid drew us a starting spot outside row one and put (Tim) Kaeding on the pole. Chuck Brennan announced during the redraw that he was putting about $10,000 in gold coins up for the top four finishers. We got there early, and they were also giving out free ice and free water. That was a nice thank you from them."
TMAC would finish third, earning a bonus gold coin worth around $1,300. "TK was great," he says of Kaeding. "He got a good start on us and I was running second most of the race. The groove was kind of around the bottom. It was kind of slick up top. I tried to pass too soon. The top was there if I could make it work, but I went up there a lap too soon. That opened the door for Justin Henderson to get by us for second. We finished with Austin pushing my bumper in fourth, so it was good to see him run well."
Mason City will be a new racing venue for TMAC. "I've been there with my Dad, and I've been there with my brother Kenny," he says. "I've looked at it, and thought about promoting some shows there. It's in a great location just off the interstate, so I hope the fans come out to see us."
McCarl Family Websites!
Driverwebsites.com develops the websites for the McCarl boys. Check out www.TerryMcCarl.com, as well as www.AustinMcCarl.com and www.CarsonMcCarl.com!
This Month in TMAC History!
TMAC has three wins on June 17 in his racing history. In 2007, he raced from the back of the pack to victory in 25 laps at Huset's Speedway, topping Mark Dobmeier, Wade Nygaard, Gregg Bakker and Gary DeWall. A 1995 win at Knoxville bested Johnny Herrera, Jaymie Moyle, Dennis Moore Jr. and Randy Smith. A 2001 win at Huset's topped Don Droud Jr., Bakker, DeWall and Skip Jackson.
"Tuesdays with TMAC"!
"Tuesdays with TMAC" is an up close and personal look at colorful sprint car veteran Terry McCarl. To receive "Tuesdays with TMAC", send an e-mail to sprntcar@hotmail.com with "TMAC" in the subject line.
TMAC Motorsports would like to thank sponsors SnowPlow Snow Pushers – www.TheSnowPlow.com, Country Builders Construction, Rossie Feed and Grain, Bosma Poultry, Destiny Motorsports, Searsboro Telephone Company, Elk Grove Ford, A.R.T. Speed Equipment, Berryhill Racing, Phil and Vivian, Justice Brothers/Gillund Enterprises, Vortex Racing, Hoosier Tire, Chris Spaulding – Attorney at Law, SuperFlow, Schoenfeld Headers, Rens Trucking, NutriShop – Maple Grove, MN, HRP, All Pro Cylinder Heads, Maxim Chassis, Bob and Beulah Elder, Engler Injection, Snap On Tools, Sposato Paint, Winters, Kilani Fender, Inc., DriverWebsites.com, CM Rock, Brown and Miller, Pro Shocks, Ben Cook, Bell Helmets, Burnett's Rock and Landscaping, Octane Ink, Morgan Strawberry Farms, Dynasty Stucco, Aurora Rod Ends, Crow Safety, KSE Steering, Snyder Lawn & Landscaping, Strange Performance, Saldana Racing Products, Scribner Plastics, Waterman Fuel Pumps, Butlerbuilt and Mote Fasteners.
Photo: TMAC celebrates his win with the World of Outlaws at Knoxville
Bill Wright
Bill W Media
Monroe, IA USA
sprntcar@hotmail.com
Twitter: @BillWMedia
Website: www.OpenWheel101.com
Back to News