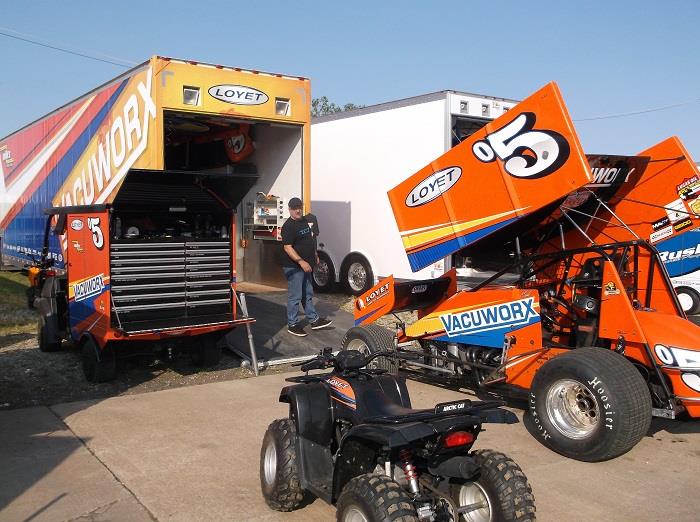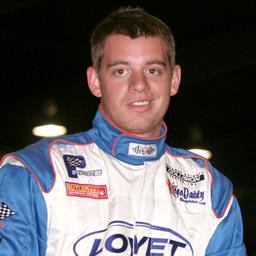 ---
Brad Loyet – South Dakota Silver!
Brad Loyet – South Dakota Silver!
(Bill W) May 25, 2016 – Brad Loyet and the Vacuworx Global #o5 team was rewarded with about $7,000 in silver Saturday night in their first ever visit to Badlands Motor Speedway near Brandon, South Dakota. The Sunset Hills, Missouri driver finished fifth in the 47-car field and took a quick liking to the 1/3-mile oval. A podium finish on Friday in Sedalia, Missouri was also a part of the weekend. This weekend, the team plans to take in MOWA action at I-55 Raceway in Pevely, Missouri Saturday and at Quincy Raceways in Illinois Sunday.
Friday's action at the Missouri State Fair Speedway in Sedalia saw the ASCS-Warrior region assembled. Brad drew the pole of his heat. "We were able to run off in the heat," he says. "We had a really good car. That put us in the redraw, and we drew the seven."
Winning from row four would be tough. "The track was a lot different than the first time we were there this year," says Brad. "It wasn't lockdown heavy, but it was a really narrow lane early on. We needed to start up front. (Jonathan) Cornell drew the one, and (Derek) Hagar drew the four, I think."
Brad moved forward in a hurry. "We were able to get to third fairly quickly," he says. "My car started coming in really well, and then we had a red flag. It was about a 25-minute red, and it killed me. I just needed to keep the tires hot and keep going. I tried to get them hot again before the green flew, but it wasn't enough. It took until the last five laps to catch the leaders again. We didn't have enough to finish the deal and we ended up third."
The April trip to Sedalia resulted in a DNF. "From the way our trip went the last time, running third was good," says Brad. "We had some fun again there, and that's all you can ask for I guess."
After an overnight trip to Sioux Falls and an engine change, the team was ready for the Silver Shootout at Badlands. Brad quickly took a liking to the track. "I really felt good in the car," he says. "I thought we were better than where we qualified (16th). That put us on the front row outside of the heat, which was the best place to be it turns out the way the track was. It was definitely narrow. We were able to get the jump and win the heat. We managed to dodge two lapped cars who were trying to crash on the back straight too."
The heat win gave him enough points to qualify for a redraw that saw him pull a feature starting spot inside row three. "I was excited about the five," says Brad. "I knew the top five paid really well. On the start, we kind of fell in line. About seven laps in, I drove into three and four on a restart. I did everything but flip the car and we fell back to tenth. That killed us, because I had to pass all those guys back."
Brad was able to work his way back up into the top five. "We found something on the low side of three and four that not many other drivers did," he says. "We kept the left rear in the good stuff, and I was able to pass a lot of cars down there. We were able to get back up to fifth, and (Justin) Henderson and (Tim) Kaeding were battling for fourth and fifth at the time. We got into fifth and the red came out. It was an open red, and there wasn't much movement after that. That's where we finished."
It was a solid payday for fifth. "Walking out of there with seven grand in silver was pretty cool," says Brad. "I was really happy and so was my Dad. It was nice to have a weekend without the dumb luck, where we could just race. We were happy about that. I hope it continues when we race with ASCS again in June."
Brad's Website
Visit Brad on the web at www.LoyetMotorsports.com!
Brad's Weekly Releases
If you'd like to be added to Brad's e-mail list for weekly releases, e-mail sprntcar@hotmail.com with "Loyet" in the Subject Line.
Brad and the Loyet Motorsports team would like to thank primary sponsors: Vacuworx Global and Loyet Landscape Maintenance. Associate sponsors: Maxim Race Cars, J and D Performance Racing Engines, Butlerbuilt Professional Seat Systems, Meramec Heights Collision Center, KSE Racing, Weld Wheels, Penske Shocks, Wilwood Disc Brakes, Hepfner Racing Products, DMI, Saldana Racing Products, Rod End Supply, Bell Helmets, TI 64, Conroy Control, The Engine Heater, Ealey Transportation, and Speedway Motors.
Bill W Media
sprntcar@hotmail.com
Twitter: @BillWMedia
Website: www.OpenWheel101.com
Monroe, IA USA
Back to News