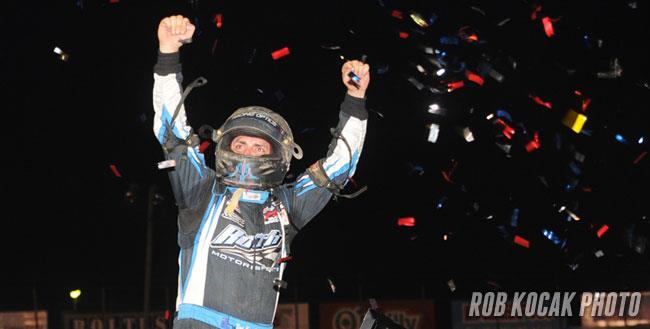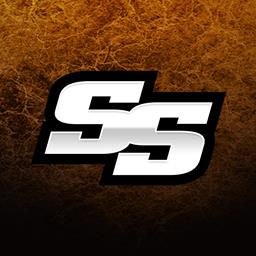 ---
Sold Out Huset's Speedway Sees Kaeding Earn Seventh Win
Largest crowd in track's 59-year history for World of Outlaws STP Sprint Cars
BRANDON, S.D. - July 3, 2013 - Every fan in the largest crowd Huset's Speedway has seen in 59 years had to believe with six laps to go leader Tony Stewart was on his way to a World of Outlaws STP Sprint Car Series victory Wednesday night. Second-place-running Tim Kaeding kept up the pressure, though, and on the next lap Stewart spun trying to avoid lapped traffic and Kaeding powered into the lead and held off Daryn Pittman to win for the seventh time this season.
Kaeding started on the pole and jumped out to a quick lead with Stewart, a three-time NASCAR Cup Series champion, giving chase. A scary crash on lap 4 involving Jason Sides and Steve Kinser brought out a red flag. Both drivers were deemed okay and on the ensuing double-file restart Kaeding chose the top line. Stewart used his inside position to race into the lead, which he held until spinning to a stop to avoid James McFadden with five to go.
Kaeding led the field back to green on what would be the final restart and held off Pittman over the final five laps to take the $10,000 checkered flag.
"I've got to give credit where credit is due and that's my entire race team, we killed a car at Cedar Lake on Sunday and they thrashed Monday, Tuesday and they got it done this morning," said Kaeding, driver of the Roth Enterprises KPC from San Jose, Calif. "Being able to drive for Dennis and Theresa Roth has a been an opportunity of a lifetime. They've given me more opportunities than probably any car owner, and to give them this many wins in this short of season is incredible. Tony did a hell of a job. He can't be upset with himself. He had that race won and kind of got robbed. He's a hell of race car driver and I would like to finish off where we were there, running him down with five to go."
Pittman, who started the 35-lap A-main on the outside of the front row, had a solid night for his championship hopes by finishing a respectable second for his third consecutive top-five finish.
"I didn't figure we would win the original start, my original goal was just to hold second and I wasn't able to do that," said Pittman, the championship leader from Owasso, Okla. "Those guys were just a little better than us, but we weren't bad. I started running the bottom when we got into lapped traffic and that was not the right thing to do. The problem is once I started doing it I couldn't figure out how to get off the bottom and back to the top without Tim sliding me, and as soon as I went to the top, sure enough, he slid me."
McMahan continued a strong streak of top-five finishes with a third-place run on Wednesday night in front of the sold out grandstands.
"We had a top two car, with maybe a chance to win with Tony getting spun out," said the Nashville, Tenn., native. "TK and Daryn were really good and I'm happy to bring this CJB Motorsports car home third tonight. It's a lot of fun the last three races we've run top five everything. You keep running top five and you're going to get some wins."
Cody Darrah finished fourth in the Kasey Kahne Racing SurePointMedical.com GF1.
Rico Abreu earned the first World of Outlaws STP Sprint Car Series quick-time honor of his career then went on to finish fifth in the A-main.
This weekend the World of Outlaws STP Sprint Car Series heads to Dodge City (Kans.) Raceway Park on Friday and Saturday night for the Boot Hill Showdown
HUSET'S SPEEDWAY NOTEBOOK
SELLOUT - For the first time in the 59-year history of Huset's Speedway, the World of Outlaws STP Sprint Car Series event was a sellout.
NOTES - Rico Abreu was the fastest qualifier around high-banked, 1/3-mile oval with a time of 10.480 seconds to earn five championship points. Also earning points were Tony Stewart (4 points), Joey Salldana (3), Paul McMahan (2) and Sammy Swindell (1). ... Cody Darrah, Tim Kaeding, Terry McCarl, and Brian Brown won heat races. ... The dash draw was a 6 for the 23nd time this year. ... Tim Kaeding won the dash for the second time this year.
CONTINGENCY WINNERS - MSD Ignitions ($25 cash): Steve Kinser; MSD Ignitions ($50 cash): Tim Kaeding; STP ($50 cash): Paul McMahan; Bruce High Performance Transporters ($50 cash): Paul McMahan; JE Pistons ($50 cash): Joey Saldana; UNOH ($50 cash): Kraig Kinser; American Racing Custom Wheels ($50 cash): Joey Saldana; VP Racing Fuels ($50 cash): Joey Saldana; Edelbrock ($50 cash): Kerry Madsen; Comp Cams ($50 cash): Kerry Madsen; Cometic Gasket ($50 cash): Kerry Madsen; Superflow ($50 cash): Terry McCarl; Klotz Synthetic Lubricants ($50 cash): James McFadden;KSE Racing Products ($100 certificate): Kraig Kinser; Penske Shocks ($100 certificate): Joey Saldana;Armor All (case of product): Ian Madsen; Comp Cams ($50 certificate): Tim Kaeding; Bruce High Performance Transporters ($200 certificates): Paul McMahan, Terry McCarl, Jason Sides; JE Pistons (set of rings): Craig Dollansky and Wayne Johnson.
---
Submitted By: Admin Account
Article Media
Back to News