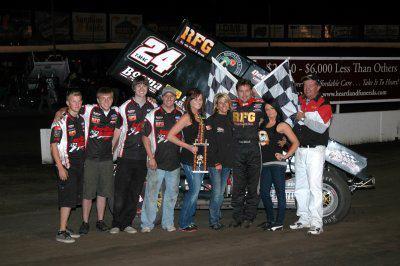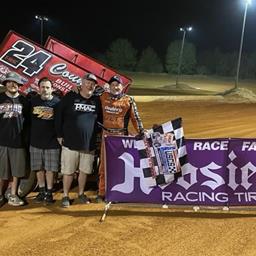 ---
Tuesdays with TMAC – Back to Back Wins at Huset's!
Tuesdays with TMAC – Back to Back Wins at Huset's!
(Bill W) May 29, 2012 – Terry McCarl racked up his second feature win in a row at the Huset's Speedway near Brandon, South Dakota on Sunday night. A sixth place finish Saturday night at Knoxville Raceway has the Altoona, Iowa driver leading the point standings at both tracks heading into June.
TMAC set quick time and ran third in his heat. "They got a lot of rain the night before, so they reworked the track a couple of times," he says. "That made it a much better race for the fans. It worked out well. It wasn't either on the top or bottom, you had to move around."
TMAC would surge to the front in some good racing action after starting sixth. The win was the 89th in his career at Huset's. "It was fun. I think (Mark) Dobmeier, (Kaley) Gharst and I passed each other about four times the first few laps. If I was having fun in the car, I know it was fun for the fans. That's what we like to see."
At Knoxville, TMAC timed in 13th after coming out late to qualify. "Brian Brown went out front of us and was second quick, so where we qualified didn't matter," he says. "It seems I've been off a little in qualifying a bit all year."
Starting outside of row six, TMAC moved forward quickly. "I was really fast in the beginning of the feature," he says. "I started twelfth and I was just passing Brown and (Robby) Wolfgang for fifth or sixth or whatever it was. I was really going well."
The handling went away in the TMAC Motorsports #24 and he maintained sixth place at that point. "My right rear went down," he says. "It lost about three pounds of air, and I was just struggling the rest of the race with being tight. I was really disappointed because we were going so well."
The sixth place finish allowed TMAC to retain the point lead at Knoxville. "The restarts are tricky with these tires," he says. "I passed quite a few cars in the first few laps. The track was there if you were good. Brian and I were both racing each other and struggling. The track has been pretty good every week. There's room to move around. We've had a good car every night. We've just struggled a bit qualifying at Knoxville. We'll be good when we get it figured out."
To check out opportunities to partner with TMAC Motorsports on a nightly basis, visit www.TerryMcCarl.com or call 515 957-0020!
Websites for the McCarl Gang!
Driverwebsites.com develops the websites for the McCarl boys. Check out www.TerryMcCarl.com, as well as www.AustinMcCarl.com and www.CarsonMcCarl.com!
In"Terry"gation
Tony Acheson asks: Will Austin's motor deal with the Bargain Barn Tire Center include the Nationals?
TMAC Answers: At this point, no. It's all up to them at this point. I think they are pretty happy with him. I think he'll definitely win some races up there for him. We haven't really spoken about the Nationals. We just really appreciate what Ben and Troy (Nothdurft) have done for Austin. They've helped to show everyone what a good driver he is.
Got a question for TMAC? Send it to us at sprntcar@iowatelecom.net , and we may answer it in this section! Put "? for TMAC" in your subject line.
This Month in TMAC History!
On May 26, 2002, TMAC was victorious with the Interstate Racing Association (IRA) at the Cresco Speedway in Cresco, Iowa. With 39 cars on hand at the banked 3/8 mile oval, TMAC topped Travis Cram, Joe Roe, Colin Northway and John Haeni. TMAC's victory with the IRA in Michigan on Friday was his seventh with the Wisconsin/Illinois based 410 series.
"Tuesdays with TMAC"!
"Tuesdays with TMAC" is an up close and personal look at colorful sprint car veteran Terry McCarl. To receive "Tuesdays with TMAC", send an e-mail to sprntcar@iowatelecom.net with "TMAC" in the subject line.
TMAC Motorsports would like to thank sponsors "Lord I Apologize BBQ Sauce", Deanfield Farms, Bosma Poultry, Eagle Chassis, DeBerg Concrete, AmeriCashAdvance.com, RFG, Phil and Vivian, Ryan Yager Trucking, 212 The Boiling Point Bar & Grill, Vortex Racing, Hoosier Tire, Chris Spaulding – Attorney at Law, Schoenfeld Headers, K&N Filters, Don Ott Engines, HRP, All Pro Cylinder Heads, Bob and Beulah Elder, Country Builders Construction, Engler Injection, Superflow Technologies, T&P Brothers, Larry Fleck Trucking, Winters, DriverWebsites.com, CM Rock, Jocko's Sprint Parts, Sander, Brown and Miller, Chase Graphics, Pro Shocks, Ben Cook, Bell Helmets, Burnett's Rock and Landscaping, Fatheadz Eyewear, Van Der Brink Designs, Morgan Strawberry Farms, Bulldog Pest Control, Aurora Rod Ends, Crow Safety, Justice Brothers, KSE Steering, Strange Performance, Saldana Racing Products, Scribner Plastics, Waterman Fuel Pumps, Weiland Racing, Butlerbuilt, PBS Bushings.
Bill Wright
Bill W Media
Monroe, IA USA
sprntcar@iowatelecom.net
Back to News