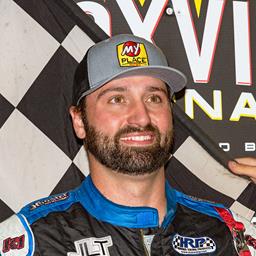 ---
Austin McCarl – Huset's Hard-Charger!
Austin McCarl – Huset's Hard-Charger!
(Bill W) June 15, 2011 – It was another good weekend of racing for Austin McCarl and the TMAC Motorsports #17A team. After running in the top three for much of the feature Saturday night at Knoxville, a broken shock saw him drop back to a seventh place finish. At Huset's Speedway in South Dakota on Sunday, he suffered a DNF in his heat, but came back to charge from 16th to 5th in the main event. This weekend, he'll show his car on Friday evening for Kosama of Altoona, race at Knoxville on Saturday, and compete with the World of Outlaws at Huset's Sunday.
Austin shook off a pair of poor qualifying efforts to time in ninth on Saturday night at Knoxville. After finishing fourth in his heat, he prepared for a special "revenge draw", in which father Terry handed him a feature starting spot outside of row two. "I really liked the way they did the draw," he says. "Having my dad give me the four was the best part."
Austin jumped immediately into the third spot and stayed with leader Ryan Anderson and Josh Schneiderman in the early going. "We were pretty good to begin the race," he says. "I felt really comfortable there in third for most of the race. Steve (Fitzpatrick) and the rest of the team really had it setup."
The Altoona, Iowa driver suffered a mechanical issue in the latter half of the race. "The second restart going down the backstretch, I had a left rear shock break and I was just holding on after that," he says. "The car was all over the place and getting tighter…I just kind of hung on."
Austin ended up with a respectable seventh place finish and now rides fifth in the season point standings. "Seventh isn't where you want to be, but considering everything, and how strong the car was, I was pretty happy with the circumstances," he says.
After timing in fifth quick at Huset's on Sunday, Austin was involved in a first lap heat melee. The result was a flattened tire. "They have a rule that you can't change the tire during a heat race," he says. "That bit us, because we weren't able to run it, and had to start in the back of the feature."
Austin must have felt like he was in a video game after starting outside of row eight and surging into the top five. "We were running well," he says. "I was kind of running over my head a little, but we were catching Jody Rosenboom in fourth."
Another close call came towards the end, but he managed to cross the line this week in fifth. "I came close to flipping once, but then I saw the white flag and cooled it a bit," says Austin. "I was really happy. It was a fun race, but starting at the back stinks."
The team is ready for Knoxville and Huset's this weekend. "We passed a lot of cars, and I love running there," says Austin. "I'm looking forward to running the Outlaw show there next Sunday."
He added, "It was great having Bianchi Brothers Pizza & Pasta with us the past two weeks. It was good that we ran well with them on board too."
Visit Austin on the Web!
Keep up to date on Austin's exploits and check out the new look at www.AustinMcCarl.com!
Austin's Releases
If you'd like to be included via e-mail, shoot one to sprntcar@hotmail.com with "Austin" in the subject line.
Austin would like to thank AmeriCash Advance.com, Rossie Feed and Grain, DeBerg Concrete, Deanfield Farms, Phil and Vivian, L. Wayne Trucking, Vortex, CM Rock, Mark Burch Motorsports, Engler, HRP, Hoosier Tire, BRMS, K&N Filters, Sander, Jocko's Sprint Parts, Crow Safety and Bell Helmets for all their help!
Bill W Media
sprntcar@hotmail.com
Monroe, IA USA
Back to News