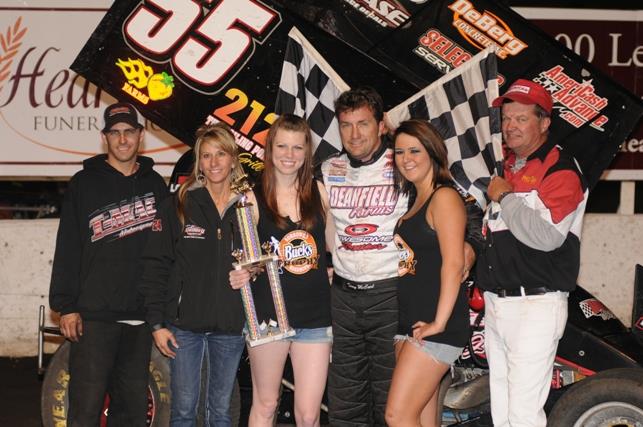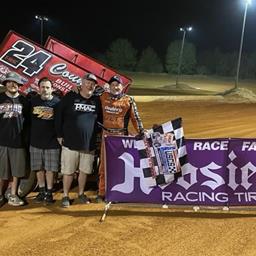 ---
Tuesdays with TMAC – Win #85 is Bittersweet!
Tuesdays with TMAC – Win #85 is Bittersweet!
(Bill W) June 14, 2011 – Terry McCarl is the all-time leading feature winner at the Huset's Speedway near Brandon, South Dakota. He added to his record tally, recording win #85 at the facility on Sunday night. However, the win was bittersweet after his son, Austin, dominated the event only to spin in the last corner. The incident collected second place driver, Mark Dobmeier, and TMAC assumed the lead and went on to win. Saturday saw a strong seventh place showing with the World of Outlaws at Knoxville. This weekend, the schedule shows Rapid Speedway in Rock Rapids, Iowa on Friday, Knoxville on Saturday and Huset's on Sunday.
The WoO show at Knoxville began with a late pill that saw a quickly drying track. TMAC posted the 15th quick time of the night. That put him on the pole of his heat, where he went on to win. "It didn't really feel good out there," he says of his qualifying run. "I was certainly glad that we were able to start on the pole of the heat though. That's what is kind of nice about that format. If you don't draw a good number, you're still not out of the woods. We changed some things with the car and it really felt good in the heat race."
The Altoona, Iowa driver's heat win put him in the dash where he started in row five and finished eighth. "Starting ninth, we wanted to try some things that we hadn't before," he says. "There was nothing to lose. That didn't work. We weren't good. We were able to get by Paul (McMahan) which got us to the fourth row."
TMAC was ready for the 25-lap main event after some adjustments on the VerMeer Motorsports #55. "We switched some things back to our heat setup," he says. "We were good. I think we had a good shot at it. We started eighth and we were up to fourth pretty quick."
After falling back a bit, he came back to checker seventh. "We just slowed down, and I don't know exactly why," says TMAC. "It was rough on the cushion in one, obviously, looking at the crashes. It took me a little bit to find where the car was good. We got back up to seventh, and I kind of came back up on them at the end."
It turns out, the car wasn't hitting on all cylinders. "We were definitely on the edge of blowing the motor," says TMAC. "We burnt a plug off in it. That's good and bad. You feel better about why you were slowing down, and you feel good that you didn't hurt the motor. It was a decent finish, and we were the highest finishing Knoxville regular."
TMAC qualified third before finishing fourth in his heat Sunday at Huset's. He rode second to Austin in the feature, before Dobmeier got by. The end of the race was bittersweet despite the win. "I've never been so disappointed in a win," he says. "Austin really had us handled. He had a big lead. Dobmeier and I couldn't hang with him. He just spun it out on the last corner and screwed up. We've all made those mistakes as young drivers."
The last two races at Huset's have seen domination from Austin despite the same setup on TMAC's ride. "It was a crazy feature race," he says. "I feel a little behind with the Goodyears still, having not raced most of last year. Of course, we set up Austin's car too, but I can't seem to get a handle on my car. Once we had an open red, we were able to work on our car a bit, so that helped."
Still, there is a lot to feel good about in the VerMeer/TMAC Motorsports camp. "I was happy to bring the money home for Tony and TK Concrete," says TMAC. "I was happy that Austin wasn't hurt. This is the happiest our family has been racing for years and years. Having Austin and Carson racing, and our great crew guys with us has been a blast. Tony VerMeer has been great to drive for. We've got some great sponsors that are a lot of fun to hang with. We're not winning quite as much as the past, but we will turn it around. We're just having fun, and that's what it's all about."
To check out opportunities to partner with TMAC Motorsports on a nightly basis, visit www.TerryMcCarl.com or call 515 957-0020!
Front Row Challenge/Ultimate Challenge
The 16th Annual Front Row Challenge and the 10th Annual Ultimate Challenge will be held Monday and Tuesday, August 8 and 9, 2010 at the Southern Iowa Speedway in Oskaloosa, Iowa. Order your seats NOW by calling McTwo Promotions, Inc. at 515 957-0020. Visit www.OskyChallenges.com for further details.
Websites for the McCarl Gang!
Driverwebsites.com develops the websites for the McCarl boys. Check out www.TerryMcCarl.com, as well as www.AustinMcCarl.com and www.CarsonMcCarl.com!
In"Terry"gation
Stephen Olson asks: Do you have any favorite memories of racing with Skip Jackson?
TMAC Answers: We had a heck of a point battle on year when he was in the #55 and I was in the Forbrook #5. It was nip and tuck all year long. The support he is getting right now shows what a really nice guy he is. When you have a competitive situation like ours, it's tough to have friends. I'm very competitive and we treat it like a war. He's always been nice. I'm sure he'll be back in a sprint car soon. When I first got to race in Australia, Skip was racing with his brothers. They were unbelievably dominant. They won the Grand Annual Classic, the World Series title…everything. He's a great racer and a great person. Cancer is a tough thing. We went through it with my brother Tommy. It's something you have to take seriously, and I think everything will work out for him.
Got a question for TMAC? Send it to us at sprntcar@iowatelecom.net, and we may answer it in this section! Put "? for TMAC" in your subject line.
This Month in TMAC History!
TMAC has three wins on June 17 in his racing history. In 2007, he raced from the back of the pack to victory in 25 laps at Huset's Speedway, topping Mark Dobmeier, Wade Nygaard, Gregg Bakker and Gary DeWall. A 1995 win at Knoxville bested Johnny Herrera, Jaymie Moyle, Dennis Moore Jr. and Randy Smith. A 2001 win at Huset's topped Don Droud Jr., Bakker, DeWall and Skip Jackson.
"Tuesdays with TMAC"!
"Tuesdays with TMAC" is an up close and personal look at colorful sprint car veteran Terry McCarl. To receive "Tuesdays with TMAC", send an e-mail to sprntcar@iowatelecom.net with "TMAC" in the subject line.
VerMeer Motorsports would like to thank TK Concrete, Maxim Trucking & Concrete Pumping, Tulip City Agency, Logan Contractors Supply, Van Maanen Electric, Tony's Auto Parts, Monarch's Restaurant & Lounge, Skyline Ready Mix, QTC (Quality Traffic Control), DPLM (Dennis Parking Lot Maintenance), Van Gorp Construction, Don Ott Racing Engines and Ulrich Motor.
TMAC Motorsports would like to thank sponsors Deanfield Farms, Eagle Chassis, DeBerg Concrete, AmeriCashAdvance.com, RFG, Phil and Vivian, Mark Burch Motorsports, Ryan Yager Trucking, 212 The Boiling Point Bar & Grill, Vortex Racing, Hoosier Tire, Chris Spaulding – Attorney at Law, Schoenfeld Headers, K&N Filters, Don Ott Engines, HRP, All Pro Cylinder Heads, Bob and Beulah Elder, Country Builders Construction, Engler Injection, T&P Brothers, Winters, DriverWebsites.com, CM Rock, Jocko's Sprint Parts, Sander, Brown and Miller, Morris Automotive, Chase Graphics, Pro Shocks, Mac Tools, Ben Cook, Bell Helmets, Burnettt's Rock and Landscaping, Morgan Strawberry Farms, Bulldog Pest Control, Aurora Rod Ends, Crow Safety, Justice Brothers, KSE Steering, CIP Racing Hoods, Strange Performance, Saldana Racing Products, Scribner Plastics, Waterman Fuel Pumps, Weiland Racing, Butlerbuilt, PBS Bushings.
Bill Wright
Bill W Media
Monroe, IA USA
sprntcar@iowatelecom.net
Back to News