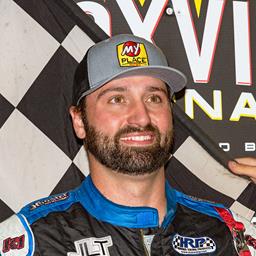 ---
Austin McCarl – Huset's Win Caps Awesome Weekend!
Austin McCarl – First Huset's Win Caps Awesome Weekend!
(Bill W) June 8, 2011 – It's never been better for Austin McCarl. The young sprint car driver put in a weekend in which he finished a career-best third at Knoxville Raceway. To cap things off, on Sunday night he took his first career feature win at the Huset's Speedway near Brandon, South Dakota. He'll race at the two tracks again this weekend, as the World of Outlaws come to Knoxville Friday and Saturday and weekly racing continues at Huset's on Sunday.
After a brutal qualifying lap on Saturday, May 28, at Knoxville, Austin bounced back with a more typical sixth quick last weekend at Knoxville. "I didn't make any mistakes," he says. "The bottom was greasy, and I didn't try to make something happen that wasn't there."
With a heat invert of eight, Austin lined up seventh, needing to have a top six run to transfer. He would finish fifth. "That was a pretty tough heat, when you have (Danny) Lasoski and (Dustin) Selvage in there," he says. "Both can run the bottom like no other. (Dusty) Zomer was in there too, so I was happy to get transferred to the feature."
Austin started the main event on the pole, but Danny Lasoski shot by him early. Austin was challenging for the lead for much of the 20-lapper. "He got underneath me right on the start," he says of Lasoski. "I had to settle down and hit my marks, and we were able to hang with him pretty well. I drove up beside him one time, and he drifted toward the fence. That hurt my momentum."
The challenge continued, until Lasoski had to change his tactics to hold Austin off. "Going down the backstretch, I kind of showed the top to him, and did it again on the frontstretch," says Austin. "He decided to move to the top. He had just enough, when I thought it was the lap I was going to drive by him. He's a smart guy, and made the right move at the right time."
At that point, father, Terry McCarl, found something and shot by both for the win, relegating Austin to third. "He came out of nowhere," says Austin. "That was crazy. He told me about his middle groove in the heat race, and it paid off for him."
The run on Sunday at Huset's started with a mediocre tenth quick time trial. "We didn't qualify as well as we had hoped, but it ended up helping us in the long run," says Austin. "We got through the heat, and Lynton (Jeffrey) drew the right number for us (8)."
Austin shot out to an early lead, but saw that the wolves were on his tail. "There were about four laps down, and I saw the 55 (Dad) and the 13 (Mark Dobmeier) were right behind me on the scoreboard," he says. "We were definitely going to see what we were made of."
He proved to be made of the stuff that got through traffic in quick order, and kept the lead. "I think Dobmeier was hanging with me really good, and we got into traffic," says Austin. "We were able to get through there, and he ended up breaking. I have a lot of memories of my dad winning there, so it was a special moment for me. Brad Goebel set the car up well, and Carson (McCarl) and Tyler Curtis were helping too. They did a great job."
Austin is thankful for all the help in making the events last week possible. "It was the best weekend we've ever had racing," he says. "I have to thank the Berryhill's with AmeriCashAdvance.com, Rossie Feed and Grain, DeBerg Concrete, Deanfield Farms, Phil & Vivian and all our sponsors. 212 Degrees The Boiling Point Bar & Grill helps us out at Huset's too. We couldn't do it without them."
Visit Austin on the Web!
Keep up to date on Austin's exploits at www.AustinMcCarl.com!
Austin's Releases
If you'd like to be included via e-mail, shoot one to sprntcar@hotmail.com with "Austin" in the subject line.
Austin would like to thank AmeriCash Advance.com, Rossie Feed and Grain, DeBerg Concrete, Deanfield Farms, Phil and Vivian, L. Wayne Trucking, Vortex, CM Rock, Mark Burch Motorsports, Engler, HRP, Hoosier Tire, BRMS, K&N Filters, Sander, Jocko's Sprint Parts, Crow Safety and Bell Helmets for all their help!
Bill W Media
sprntcar@hotmail.com
Monroe, IA USA
Back to News