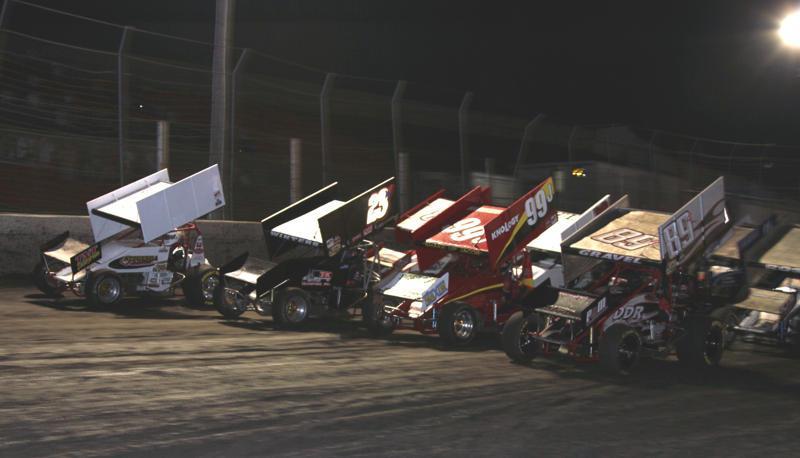 ---
Shake Up Jacob – Running with the Stars
NEWTON (August 4, 2010) – It was a weekend amongst the stars for seventeen year old Jacob Ossenfort, as he tried his hand against some of the biggest stars behind the wheel of a 410 sprint car. Last weekend landed Jacob and the Ossenfort Racing team in Brandon , South Dakota , at Husets Speedway, racing the All Star Circuit of Champions Sprint Car Series event.
Friday night would start the weekend off by shaking off some nerves. Jacob qualified twenty-first fastest, which gave him a starting position of seventh in his heat race. The Knology #99J battled to keep the seventh position, but with not much track to work with he settled for a solid eighth place finish in the heat.
Previous results of the night placed Jacob in the fourth row of the evening's B-Main event. Jacob raced his way up to a third place finish. He was one of the top six finishers in the B-Main to transfer to the A-Main event. Jacob started twenty-third for the night's main event and moved methodically through the traffic, to take home eighteenth.
After Friday night's qualifying session, Jacob received some pointers from one of sprint car's well known stars, Terry McCarl. "He pretty much told me to man up and trust my car. After all, trust can make or break many things," said Jacob. Saturday was a brand new day and after sleeping on this advice, Jacob was ready for the challenge. The Knology #99J qualified sixth fastest of the twenty-four cars running in the night's event. "He told me to man up and I did! I trusted my car more than I normally do. If I wanted it to stick, I trusted that it would, and it paid off."
With the rest of the night on the line Jacob knew that all he had to do was finish his heat race, to get his qualifying position back, so he played it safe. "I knew that just finishing the race would put me in a good place, and I also knew that a wrecked car wouldn't get me anywhere." Jacob started the race and finished the race in the sixth place position, placing him in the top six for the night.
As one of the top six, Jacob qualified for the A-Main redraw. The Knology #99J started third in the night's A-Main event. Jacob finished the main with a well deserved eleventh placed. "The car was set up great! I don't know where I was when the red came out on lap twenty, but I do know that I made the wrong decision to go to the bottom. A few cars got by me on the outside, but it was another successful night. As a rookie in the 410 and making the A-Main two nights in a row, on a weekend like this, I was happy." Jacob said at the end of the night.
Sunday was the last night of the All Star Circuit of Champions event, and so it began one more time. Jacob wound up qualifying tenth fastest of the thirty-four cars that arrived. "All I could hear was the advice from Terry, and that's all it took. On behalf of myself and the rest of the Ossenfort Racing team, we are all wishing him a speedy recovery" said Jacob.
The Knology #99J started fourth in his heat and needed a top five to transfer to the A-Main. Jacob raced hard, chasing a top five, but something was holding him back. Upon the finish of the race, Crew Chief Todd Ossenfort, noticed that the track was changing pretty fast and it was time to change gears. Jacob finished his heat in sixth, missing the transfer by one.
After the changes were made, the Knology #99J started third for the B-Main. This time Jacob needed a top four to transfer to the A-Main, and transfer he did. Jacob finished in fourth, snagging the last transferring position. "The car was perfect. The gear change was a great decision on dad's part; without it, I'm not sure we could've made the A-Main."
Jacob and the Knology #99J started thirteenth for the weekend's final main, and raced hard until the checkered was thrown. "We were having brakes problems, and every time I got on a rail, my brakes went away. I was passed by a couple of cars but without my brakes, I believe it was a really successful night." Jacob said. The Knology #99J finished the weekend with a sixteenth place in Sunday night's A-Main. "When we left the shop for the weekend, our goal was to make the A-Main. We did that each night and as a rookie, it feels grad to say we accomplished one of our biggest goals. The competition was tough and we put up a good fight." Jacob had to say of his weekend.
You can bet that the Ossenfort Racing team is working hard to fix the brake problem and getting themselves prepared for the 360 Nationals in Knoxville , Iowa . Be sure to get out to Knoxville Raceway on Friday and Saturday to cheer on Jacob and the Knology #99J!
Online
To keep up with Jacob and Ossenfort Racing, check them out online at www.ossenfortracing.com!
For weekly updates on "Shake Up" Jacob Ossenfort, join our mailing list by emailing "Shake Up" to kzcommunications@rocketmail.com.
Knology
Life is about connecting. Person to person. Business to business. To help, Knology has developed the industry's most advanced fiber network, along with the services that bring it to life. Helping you connect with all the people who are important to you. For more information, go to www.Knology.com.
Super Clean Tunnel Wash
Located at 1501 Cambell Street in Rapid City, SD, Super Clean Tunnel Wash is proud to sponsor the #99J Sprint Car. The Super Clean Tunnel Wash, "Home of the $5.00 Express Wash", offers Free vacuums, Free use of drying towels, in addition to the 6 high pressure self serve bays where you have the convenience of paying in the bay with cash, coin or credit card. The 120 foot exterior express tunnel wash uses "Third Generation" foam along with the finest chemicals available to the car wash industry, to not only get your car clean, but Super Clean! If you have 3 minutes and $5.00, stop by and let them wash your car!
DonBar Cars
DonBar Cars has over 35 years of experience in the automotive industry. DonBar Cars specializes in Quality Vehicles priced under $4,000! They now offer financing! Let them help you with your next pre-owned vehicle purchase. For more information, visit www.DonBarCars.com or call Don at 605-393-CARS (2277)! Located at 3788 East Hwy 44, Rapid City , SD 57703 .
BankWest
At BankWest, their goal is to meet all your financial needs, every day. They are ready with financial solutions for any stage of life. Whether you're just starting out, raising a family or nearing retirement, they have the tools to help you reach your short- and long-term goals. Located in Pierre , Mitchell, Rapid City , Vivian, Kadoka, Kennebec , Onida, Selby, Gregory and Winner. Call them today at 1-800-253-0362 and go to www.BankWest-SD.com.
Robert Sharp & Associates
RSA is a customer service company that happens to do advertising and marketing too. They are interested in long-term relationships with folks who love success as much as they love to help them achieve it. They want to get to know you. Stop in at 3615 Canyon Lake Drive , Rapid City , SD 57702 , call them at 605-341-5226 or visit them at www.RobertSharpAssociates.com.
Black Hills Powersports
They are a full service dealer of new and used powersports vehicles. Their new vehicle brands are YAMAHA ATV, motorcycle, utility vehicle, watercraft, snowmobile, scooter, KAWASAKI ATV, motorcycle, utility vehicle, watercraft. For more information, go to www.BlackHillsPowersports.com or call Todd at 605-342-5500. Located at 3005 Beale Street , Rapid City , SD 57703 (South side of I-90 between exits 60 and 61).
Ossenfort Racing would like to thank the following product sponsors; Weld Racing (www.weldracing.com), Rosenbaum's Signs (www.rosenbaumsigns.com), HRP Racing Products (www.HRPRacing.com), Wesmar Racing Engines (www.Wesmarracing.com), Don Ott Racing Engine (www.donottracingengines.com), and Maxim Racing Chassis (www.raceMaxims.com)
Back to News