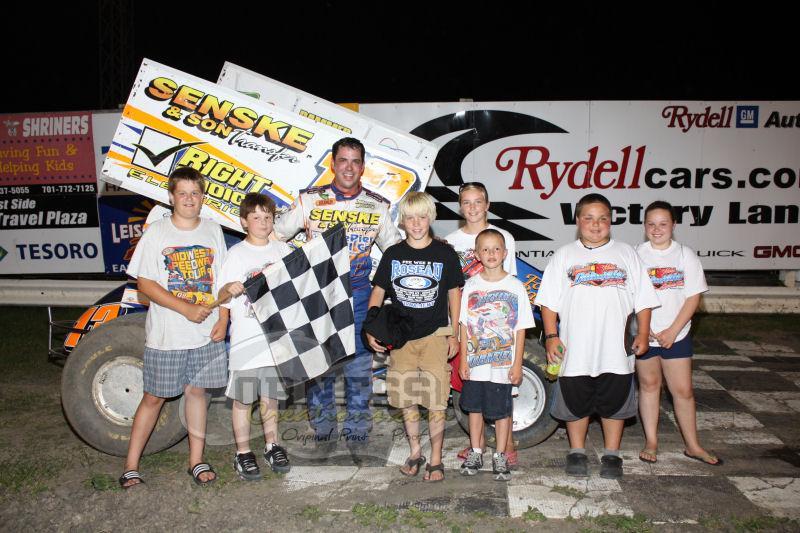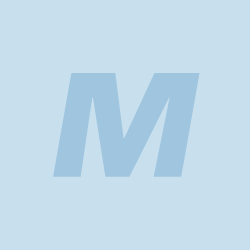 7/7/2010
---
Mark Dobmeier – Hard Charger with WoO
If there is anyone who knows how to get around Huset's Speedway, its Grand Forks, ND native Mark Dobmeier, pilot of the Senske & Son Right Choice Electric #13. When the Outlaws come to the fast high-banked 3/8 mile, Lunstra/Dobmeier Motorsports are always prepared to go fast and make a great showing. They qualified a little slower than they would have liked at 18th out of the 30 entries with an 11.238, just 4 tenths off the pace from pole-setter Jason Meyers.
Starting on the outside of the third row at sixth, Dobmeier charged forward on the narrow racing groove and up to fourth locking him into the main event to start 17th. "We knew the track would get a little more 'racey' for the main," explains Dobmeier, "We made just a couple changes to the car and we felt pretty confident that we would move forward."
Moving forward is exactly what the veteran Huset's driver did as he charged up to 10th, passing Joey Saldana with just a few laps to go, earning the KSE Hard Charger Award. "It is always fun to race against these guys," says Mark. "We are generally pretty quick whenever the Outlaws come to town, we do a lot of homework throughout the season to prepare ourselves and it pays off."
After making the long, near five hour drive back to Grand Forks, Mark slept for just a bit as he had to get up early for a day's worth of work before Friday night's River Cities event.
From the back to second in the heat race, Dobmeier started 9th for the main event. He quickly grabbed the lead and stayed up front to the end, nailing down his 5th win of the season and fourth at River Cities.
Saturday night was Knoxville. Lunstra/Dobmeier Motorsports have been working very hard to be successful at the legendary raceway, doing their homework week in and week out, making sure everything is right. Mark won the feature at the fast ½ mile back in May and electing to race Knoxville instead of the World of Outlaw show at North Central Speedway in Brainerd, MN was the choice they made, knowing that things need to happen there very soon.
Qualifying tenth quick and running third in the heat, Dobmeier started on the outside of row number two for the main event. About five laps in, Dobmeier took the lead from Davey Heskin and with one contest of the lead from Brian Brown, Mark stayed up front winning his second feature of the year at Knoxville Raceway.
"It feels great to stand in Victory Lane here," exclaims Mark. "We work very hard to be strong at this place every Saturday and tonight it paid off!"
The team was very pleased with their success at Knoxville and would look to continue it the following day at Huset's. Mark went out for hot laps, and noticed that the motor wasn't running right and the team realized they had some magneto issues. There is hardly any time between hot laps and qualifying at Huset's Speedway, but the team managed to install a new magneto in time to qualify with a seventh-quick time, but they missed their time slot.
When the team missed their time slot Mark had to start in the back of the heat race. Dobmeier then raced up to fourth in the ten lap contest which put him on the inside of the fourth row for the start of the main. "We felt pretty good going into the main," says Mark. "The track had an 8" curb around the top which made it a little tough to get around, but with it slick in the middle I am sure it made for a good show for the fans. A fourth place finish isn't as good as we would like, but top five's are always good."
[b FAST FACTS ON DOBMEIER:]
Mark graduated from The University of North Dakota in Grand Forks with a Bachelor's Degree in Business in which he then put the degree to work as he currently has a business in his hometown called Forx Radiator where he specializes in radiator repair and other vehicle service work.
Mark will be racing River Cities Speedway, Knoxville Raceway and Huset's Speedway weekly throughout the 2010 season with as many close World of Outlaw, IRA and other NOSA events to fill in the gaps of the schedule.
[b LUNSTRA/DOBMEIER MOTORSPORTS TEAM WEBSITE:]
Be sure to follow the team through the team website www.markdobmeier.com. Latest results, news and photo updates will be updated regularly.
Follow Dobmeier on Twitter! www.twitter.com/dobmeierracing
[b SIGN UP FOR THE PRESS RELEASES!]
While you are at www.markdobmeier.com, don't forget to swing by the contact page and sign yourself up for the weekly press releases!
[b SPECIAL THANKS TO:]
Senske & Son Transfer, Right Choice Electric, Big Trucks by Jimco, Dekalb Seed, Dahlstrom Motors, Forx Radiator, Delta Oil , Dammer Brothers Livestock Transportation, Anderson Brothers Body Shop, Fragola Hoses, Willow Ridge, Rose Creek Tavern, Forks Mobile Wash, Awesome Racewear, Rite Spot Liquor, X-treme Polishing, the Disabled American Veterans and Driver Websites.com.
Back to News