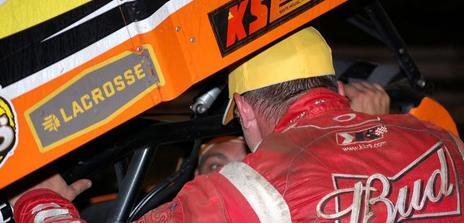 ---
World of Outlaws Wrap-Up: Kasey's King of Sedalia, Huset's Speedway & North Central Speedway
Closer and closer: The battle at the top of the World of Outlaws championship standings remains tight among the Top-Three. After the event at North Central Speedway in Minnesota last Saturday night, Joey Saldana holds a 20-point lead over 20-time series champion Steve Kinser, with Jason Meyers third, 27 markers out of the top and just seven behind Kinser for second. Saldana has been out front since May 13 and has led the standings longer than any other driver this season. Four different drivers have sat atop the standings for at least one race this season through 32 races.
"For us, the points take care of themselves," shared Saldana, when asked if it's too early to think about points. "When you talk about points, we have a lot of problem and that kills you. We blew up while leading at Lakeside (Speedway) and you can't have DNF's (Did not finish) and we seem to have them and Steve (Kinser) and Jason (Meyers) don't. They are solid every night and finish every race and every lap. You definitely have to be going strong every race to make up points and you can't fall out."
Nothing but respect: Jason Meyers and Donny Schatz raced wheel-to-wheel on a couple of late restarts at North Central Speedway last Saturday night, giving each other just enough racing room and never touching a single time, with Meyers coming out on top and Schatz second. The pair finished first and second last year in the closest points race in World of Outlaws history with Schatz coming out on top by a mere 19 markers. Schatz nosed ahead of Meyers on one of the restarts on Saturday night heading into turn one, with the caution coming out before the pair could race into turn two. On both double file restarts with four laps remaining Meyers lined up on the low side of the track with Schatz up top and both times Schatz dove low in turns one and two in a bid for the lead.
"I have to pay Donny Schatz a compliment and that's why he's a four-time champion," said Meyers in Victory Lane. "He raced me clean and he raced me hard. That's what it's supposed to be about and I hope the fans enjoyed it."
A strong rebound: Tim Kaeding rebounded to finish fifth at North Central Speedway after having his brakes lock up in a heat race, costing him a spot in the dash, which would have earned him a Top-10 starting spot in the feature. He won the B-Main to race his way into the main event and came from 11th to finish fifth in his first visit to the 1/3-mile bullring.
"These guys busted their butts after the race," said Kaeding of his crew. "We had a master cylinder go bad on us and the brakes stuck and we didn't make it out of the heat race. We had to run the B-Main and capitalized on that and learned a little bit more about the race track. We had a great race car, it's just hard when everyone is in the same groove as you to pass. Hopefully we can keep clicking off these Top-10's and Top-Fives and be consistent."
Third no more: Sammy Swindell scored his second win of the season with the World of Outlaws last Thursday night at Huset's Speedway in a thrilling dual with Steve Kinser. The win snapped a string of two consecutive third-place finishes with the World of Outlaws for the three-time series champion, Swindell finished third at Lakeside Speedway and Missouri State Fair Speedway before winning at Huset's, which was his first start at the high-banked bullring since 2005.
"I was thinking at the start, 'Well here we are in third again and we'll get another third' and lot of guys would be happy with that, but we have kind of a joke going that we are tired of running third," noted Swindell after his win at Huset's. "That's not bad though, coming out here starting late in the year and getting this team going and running against these guys."
Oh so close: Lucas Wolfe led 29 laps last Thursday night at Huset's Speedway en route to a third-place finish. He battled 20-time series champion Steve Kinser and three-time series titlist Sammy Swindell down the stretch. For Wolfe it was just his second career start at the high-banked bullring and he has finished third in both of his starts at the track. The native of Mechanicsburg, Pennsylvania has six podium finishes this year as he continues to close in on his first career World of Outlaws A-Feature win.
"It was another good run for us," said Wolfe. "To be able to race with Steve (Kinser) and Sammy (Swindell) the best two drivers ever to race a sprint car is great. We'll just keep working hard and hopefully these strong results will continue to we'll get a win."
Hard charging: Steve Kinser earned the KSE Racing Products Hard Charger Award twice last week. The 20-time series champion came from the 19th starting spot to finish eighth at North Central Speedway and also charged from 18th to finish ninth at Missouri State Fair Speedway last Tuesday. The Hall of Famer has finished in the Top-10 in 30 of the first 32 races this season and is currently second in points as he chases his record 21st title.
Promoting & racing: In addition to helping promote the event at Missouri State Fair Speedway, Kasey Kahne also raced. It marked his second start of the season with the World of Outlaws, after he set a new track record in qualifying for the opener of the Showdown for the Bud Crown back in March at Volunteer Speedway in Tennessee. Kahne started 20th at Sedalia and worked his way to a respectable 14th-place finish in his third career start at the half-mile and first in a 410-sprint car. He'll help promote the final race of the four-race Showdown for the Bud Crown this coming Thursday at LaSalle Speedway in Illinois.
"I had a great time," shared Kahne. "I didn't run that well, but I had a great time. I'm glad to see a lot of people here. It's a great crowd and thanks to everyone for coming out. The World of Outlaws is a great series to support and be a part of. I love being a part of it and owning some race cars. It's great to be here."
A big win: In addition to setting a new career high with his third A-Feature win of the season last week at Sedalia, Jason Sides became the third different driver to win a race in the four-race Showdown for the Bud Crown mini-series at Missouri State Fair Speedway. The finale of the four races will be this coming Thursday at LaSalle Speedway in Illinois.
"It's great that he (Kasey Kahne) puts on races like this and hopefully he and others can continue to put on races like this," said Sides. "It's definitely a good one to win."
What a run: Wayne Johnson finished fifth at Missouri State Fair Speedway in his first World of Outlaws start aboard his own No. 77X machine that he and his wife own. With just one car, one engine and very few spare parts, he made the tow south to Sedalia with a small, borrowed trailer and wound up winning a heat race to earn a spot in the dash and came home a very strong fifth in the main event. Johnson has competed now four times in his own machine through July 3, scoring three second-place finishes at Knoxville Raceway along with the Top-Five with the World of Outlaws.
"This car has been really fast right from the get-go. This was just the third night on the car and we have two seconds (prior to the Sedalia race) at Knoxville and a fifth with the Outlaws. What can I say, it's just working."
Tribute lap: Jack Hockett, the father of the late Jesse Hockett, ran a tribute lap in his son's No. 77 at Missouri State Fair Speedway last week prior to the World of Outlaws dash. Jesse Hockett passed away last month after a shop accident. The 26-year old Hockett, who hailed from Warsaw, Missouri, scored his best career World of Outlaws finish last season at Silver Dollar Speedway during one of the preliminary features of the Gold Cup Race of Champions.
Up next: The fourth and final round of the Showdown for the Bud Crown, Kasey's King of LaSalle at LaSalle Speedway in Illinois on July 8, followed by a stop at Beaver Dam Raceway in Wisconsin on July 10 and Cedar Lake Speedway also in Wisconsin on July 11.
Photo gallery The Media Gallery section of www.worldofOutlaws.com continues to be updated after each event. Visit http://www.worldofoutlaws.com/sprint/MediaGallery.aspx to see Photo Galleries from all 2010 World of Outlaws events. Photo Galleries from events at Huset's Speedway and North Central Speedway will be posted soon.
Keep up with all the action: The number of "Followers" keeping up with the World of Outlaws via Twitter online and through text messages on cell phones continues to grow and recently surpassed the 4,200 "Follower" mark. Updates are provided throughout race nights beginning with hot laps and continuing all the way through the final checkered flag of the night. To sign-up visit: http://twitter.com/worldofoutlaws and receive live race updates, anywhere, anytime.
On sale now: Tickets for a number of premier World of Outlaws events are currently on-sale, including Kasey's King of LaSalle on July 8, in addition to the Don Martin Memorial Silver Cup Twin 30's at Lernerville Speedway on July 20, and the Ironman 55 at I-55 Raceway on August 6-7. Also on sale now are tickets for the World of Outlaws stop at Rolling Wheels Raceway Park in New York on October 9 and the World Finals at The Dirt Track at Charlotte, November 4-6. For tickets visit www.WorldofOutlaws.com/tickets.
The World of Outlaws Sprint Car Series is brought to fans across the country by many important sponsors and partners, including: Armor All (Official Car Care Products), Chizmark & Larson Insurance, Goodyear Tires (Official Tire), SuperClean (Official Cleaner-Degreaser), VP Racing (Official Racing Fuel); in addition to contingency sponsors, Jake's Custom Golf Carts, KSE Race Products, Penske Shocks, Racing Electronics, S&S Volvo; Engine Builder's Challenge participants Don Ott Racing Engines, Kistler Engines, Shaver Specialties and Speedway Engines; and Chassis Builder's Challenge participants J&J Auto Racing, Maxim Racing and XXX Race Company.
---
Submitted By: Tony Veneziano
Back to News