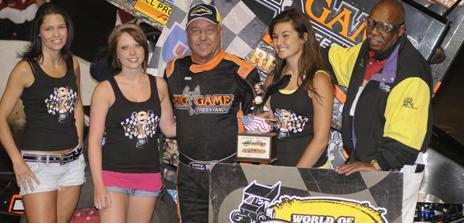 ---
Just Like Old Times: Sammy Swindell & Steve Kinser Battle for Win at Huset's Speedway
Brandon, SD— July 1, 2010—The scene has played out countless times over the years, as Sammy Swindell Steve Kinser have been battling for wins with the World of Outlaws since the series inaugural season in 1978. Well over 30 years later, the Hall of Famers are still mixing it up and battling tooth and nail against each other as well as against drivers that were not even born when they began their amazing careers. The pair battled right down to the wire on Thursday night at Huset's Speedway, with Swindell coming out on top to earn his second World of Outlaws win of the season before a very large crowd.
Swindell took the lead from Lucas Wolfe on the 30th lap. Coming to the white flag, Kinser took the lead off turn four as the duo charged down the front straightaway, with Swindell battling right back and retaking the top spot in turn one. He would work his way through lapped traffic on the final lap around the high-banked bullring en route to the $10,000 triumph which was 270th of his illustrious World of Outlaws career.
"I'm just happy to get another win," said Swindell. "We've been close there for quite a few of them. We just needed the breaks to go our way and tonight they did. I just had to get in the right place at the right time. We definitely had a bit more speed at the end."
Swindell battled Kinser for second for most of the race before getting around him on the 28th lap and setting his sights on Lucas Wolfe. He dove under Wolfe in turn four on the 30th lap using a slide job to take the lead, with Kinser coming with him to snag second, setting up the final five lap shootout.
"After one start, I knew what Steve (Kinser) was going to do, and I was able to go to the top and as soon as he moved back up I went down and was able to get him to move down, which is what I wanted to do," explained Swindell, who is a three-time World of Outlaws champion. "He kind of helped me out by doing that and let me go right on around. Then it was a chance of running Lucas (Wolfe) down and seeing what we could do."
The race saw two cautions and one red flag, with the final 25 circuits going non-stop, putting the leaders in lapped traffic for a good portion of the second-half of the contest. Swindell was able to maneuver very well in traffic aboard the Big Game Treestands Maxim en route to his 11th career win at Huset's Speedway and his first at the track since 2004.
"We just need these (races) to go straight through and that will be to my advantage when we get to traffic," shared the native of Germantown, Tennessee. "Tonight it helped me and then right there at the end I thought it was going to hurt me, but it seemed like every time I really needed it, guys got out of the way. That's hard to beat when things work that way and I've had them go the other way a lot of times. That's how you get the wins when you get the breaks."
Lucas Wolfe led at the drop of the green, with Kinser quickly charging from the fifth starting spot to second. He challenged Wolfe early in the going before the first caution flag of the night waved on the fifth lap. On the ensuing double file restart Wolfe chose the low line and led the field into turns one and two, when the red flag came out for Jac Haudenschild who got upside on the front straightaway. By way of rules, the following restart was a single file, since the wreck followed the double file restart. Wolfe again charged down the front straightaway to lead the field into turns one and two.
Kinser wound up second in the Bass Pro Shops Maxim to earn his series leading 29th Top-10 finish of the season. He also cut a large chunk off of Joey Saldana's lead in the series standings and now is just 10 point back as he chases his record 21st title.
Wolfe led 29 laps en route to finishing third in the Allebach Racing Maxim, as he continues to close in on his first World of Outlaws A-Feature win. The native of Mechanicsburg, Pennsylvania chose the low side of the track both times he was out from on a double file restart.
Jason Meyers, who began the night by turning the fastest lap in time trials finished fourth in the GLR Investments KPC and gained a number of points as well in the standings and now, is just 33 points behind Saldana as he chases his first series title.
Craig Dollansky recovered from a lap-8 incident which forced him to restart as the last car on the lead lap to charge back through the field to finish fifth in the Big Game Treestands Maxim.
Donny Schatz was sixth in the Armor All/STP J&J, with Kraig Kinser seventh aboard the Quaker State Maxim. Paul McMahan was eighth in the Great Clips Maxim with Brooke Tatnell ninth piloting the Southern Crane & Tractor Supply machine. Mark Dobmeier came from 17th to finish 10th in the Senske & Son J&J to earn the KSE Racing Products Hard Charger Award.
Joey Saldana, the current World of Outlaws point leader, finished 12th in the Budweiser Maxim.
The World of Outlaws return to action on Saturday, July 3 at North Central Speedway in Brainerd, Minnesota.
HUSET'S SPEEDWAY NOTES
•FAST QUALIFIER: Jason Meyers paced the 30 cars that took time with an AMB i.t. timed lap around the high-banked 3/8-mile oval at 10.810 seconds at 110.897 mph. For his qualifying effort, Meyers earned five bonus points. The next four fastest qualifiers also earned bonus points, including: Sammy Swindell (4), Kerry Madsen (3), Lucas Wolfe (2) and Joey Saldana (1).
•HUSET'S SPEEDWAY QUALIFYING WINNERS: Kraig Kinser, Donny Schatz and Paul McMahan won heat races. Lucas Wolfe won the dash. Danny Lasoski won the Last Chance Showdown
• FEATURE WINNERS: There have been 31 World of Outlaws Sprint Car Series A-Feature events held in 2010. The winners include: Jason Meyers (The Dirt Track at Las Vegas Motor Speedway, Thunderbowl Raceway, Volunteer Speedway, Tri-State (Okla.) Speedway, Virginia Motor Speedway and I-96 Speedway), Joey Saldana (Thunderbowl Raceway, Volunteer Speedway, I-55 Raceway, Eldora Speedway, Dodge City Raceway Park and River Cities Speedway), Steve Kinser (Volusia Speedway Park, Jackson Speedway, River Cities Speedway and Lakeside Speedway), Jason Sides (Houston Raceway Park , Tri-City Speedway and Missouri State Fair Speedway), Jac Haudenschild (Paducah International Raceway and Knoxville Raceway), Donny Schatz (Volusia Speedway Park and The Dirt Track at Charlotte), Sammy Swindell (Dodge City Raceway and Huset's Speedway), Brooke Tatnell (Knoxville Raceway and Junction Motor Speedway), Craig Dollansky (Lone Star Speedway), Chad Layton (Williams Grove Speedway), Paul McMahan (Eldora Speedway) and Fred Rahmer (Williams Grove Speedway).
•3/8WINNERS: Huset's Speedway is a high-banked 3/8-mile oval. The World of Outlaws have raced six times on a track that size this season. The winners include: Sammy Swindell (Dodge City Raceway Park and Huset's Speedway), Jac Haudenschild (Paducah International Raceway), Jason Meyers (Tri-State-Okla. Speedway), Joey Saldana (Dodge City Raceway Park and Brooke Tatnell (Junction Motor Speedway).
World of Outlaws Sprint Car Series Statistical Report; Huset's Speedway; Brandon, SD; July 1, 2010
Qualifying
14-Jason Meyers 10.810
1-Sammy Swindell 10.815
3-Kerry Madsen 10.898
5W-Lucas Wolfe 10.943
9-Joey Saldana 10.965
23W-Scott Winters 10.985
11-Steve Kinser 10.989
15-Donny Schatz 11.034
R19-Jac Haudenschild 11.047
11K-Kraig Kinser 11.072
7-Craig Dollansky 11.080
91-Paul McMahan 11.085
2B-Ben Gregg 11.148
59-Brooke Tatnell 11.150
56-Johnn Cressman 11.200
63-Chad Kemenah 11.205
6-Danny Lasoski 11.225
13-Mark Dobmeier 11.238
18-Tony Bruce Jr. 11.259
4X-Toni Lutar 11.325
83-Tim Kaeding 11.374
15H-Sam Hafertepe Jr. 11.413
4-Chad Meyer 11.420
4W-Matt Wasmund 11.429
22-Brian Ellenberger 11.438
33-Robby Wolfgang 11.496
101-Chuck McGillivray 11.509
9M-Marlon Jones 11.544
99J-Jacob Ossenfort 11.636
7S-Jason Sides 11.867
Heat 1 (8 Laps, top 6 finishers transferred to A-feature) - Starting Position [#]
11K-Kraig Kinser[1]
11-Steve Kinser[2]
14-Jason Meyers[4]
5W-Lucas Wolfe[3]
63-Chad Kemenah[6]
2B-Ben Gregg[5]
18-Tony Bruce Jr.[7]
22-Brian Ellenberger[9]
9M-Marlon Jones[10]
15H-Sam Hafertepe Jr.[8]
Heat 2 (8 Laps, top 6 finishers transferred to A-feature) - Starting Position [#]
15-Donny Schatz[2]
7-Craig Dollansky[1]
1-Sammy Swindell[4]
9-Joey Saldana[3]
59-Brooke Tatnell[5]
4X-Toni Lutar[7]
33-Robby Wolfgang[9]
6-Danny Lasoski[6]
4-Chad Meyer[8]
99J-Jacob Ossenfort[10]
Heat 3 (8 Laps, top 6 finishers transferred to A-feature) - Starting Position [#]
91-Paul McMahan[1]
R19-Jac Haudenschild[2]
23W-Scott Winters[3]
13-Mark Dobmeier[6]
3-Kerry Madsen[4]
83-Tim Kaeding[7]
7S-Jason Sides[10]
56-Johnn Cressman[5]
101-Chuck McGillivray[9]
4W-Matt Wasmund[8]
Dash (6 laps, finishing order determined first 10 starting positions of A-feature) - Starting Position [#]
5W-Lucas Wolfe[1]
1-Sammy Swindell[3]
14-Jason Meyers[4]
3-Kerry Madsen[2]
11-Steve Kinser[5]
15-Donny Schatz[6]
91-Paul McMahan[10]
7-Craig Dollansky[9]
R19-Jac Haudenschild[7]
11K-Kraig Kinser[8]
B-main (12 laps, top 6 finishers transferred to A-feature) - Starting Position [#]
6-Danny Lasoski[2]
18-Tony Bruce Jr[3]
15H-Sam Hafertepe Jr.[4]
7S-Jason Sides[12]
22-Brian Ellenberger[7]
4-Chad Meyer[5]
56-Johnn Cressman[1] [$200]
33-Robby Wolfgang[8] [$180]
99J-Jacob Ossenfort[11] [$175]
101-Chuck McGillivray[9] [$160]
9M-Marlon Jones[10] [$150]
4W-Matt Wasmund[6] [$150]
A-main (35 laps) - Starting Position [#]
1-Sammy Swindell[2] [$10,000]
11-Steve Kinser[5] [$5,500]
5W-Lucas Wolfe[1] [$3,200]
14-Jason Meyers[3] [$2,800]
7-Craig Dollansky[8] [$2,500]
15-Donny Schatz[6] [$2,300]
11K-Kraig Kinser[10] [$2,200]
91-Paul McMahan[7] [$2,100]
59-Brooke Tatnell[14] [$2,050]
13-Mark Dobmeier[17] [$2,000]
R19-Jac Haudenschild[9] [$1,500]
9-Joey Saldana[11] [$1,200]
83-Tim Kaeding[20] [$1,100]
23W-Scott Winters[12] [$1,050]
6-Danny Lasoski[16] [$1,000]
7S-Jason Sides[22] [$900]
18-Tony Bruce Jr.[18] [$800]
2B-Ben Gregg[13] [$800]
22-Brian Ellenberger[23] [$800]
4X-Toni Lutar[19] [$800]
4-Chad Meyer[24] [$800]
15H-Sam Hafertepe Jr.[21] [$800]
3-Kerry Madsen[4] [$800]
63-Chad Kemenah[15] [$800]
Lap Leaders: Lucas Wolfe 1-29; Sammy Swindell 30-33, 35; Steve Kinser 34
KSE Hard Charger Award: Mark Dobmeier
Penske Power Position Award: Ben Gregg
World of Outlaws Championship Standings through July 1
Joey Saldana 4318
Steve Kinser 4308 -10
Jason Meyers 4285 -33
Donny Schatz 4151 -167
Jason Sides 4123 -195
Paul McMahan 3996 -322
Lucas Wolfe 3987 -331
Jac Haudenschild 3931 -387
Craig Dollansky 3930 -388
Danny Lasoski 3872 -446
The World of Outlaws Sprint Car Series is brought to fans across the country by many important sponsors and partners, including: Armor All (Official Car Care Products), Chizmark & Larson Insurance, Goodyear Tires (Official Tire), SuperClean (Official Cleaner-Degreaser), VP Racing (Official Racing Fuel); in addition to contingency sponsors, Jake's Custom Golf Carts, KSE Race Products, Penske Shocks, R2C Performance, Racing Electronics, S&S Volvo; Engine Builder's Challenge participants Don Ott Racing Engines, Kistler Engines, Shaver Specialties and Speedway Engines; and Chassis Builder's Challenge participants J&J Auto Racing, Maxim Racing and XXX Race Company.
---
Submitted By: Tony Veneziano
Back to News